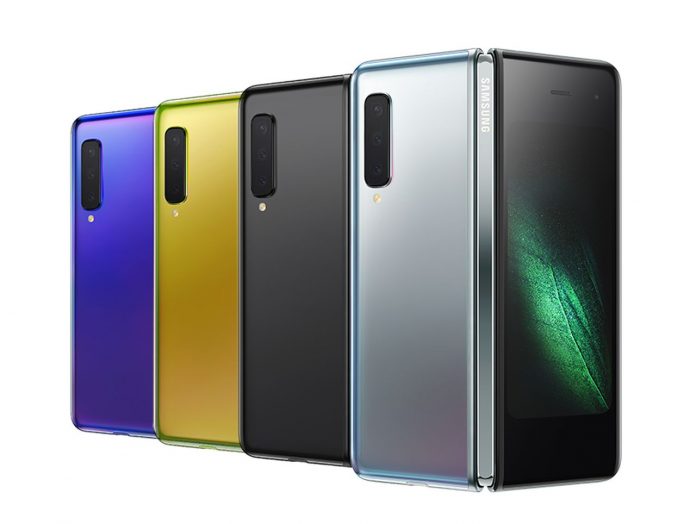 Samsung Galaxy Fold came to life over the past hours, as expected and all the rumors were confirmed. I'll be the first to admit that it looks better than I expected and you can check it out below.
Samsung Galaxy Fold is at its core a 7.3 inch tablet with an InfinityFlex display. When it's folded it turns into a 4.6 inch smartphone with pretty large top and bottom bezels. It can be used as a smaller tablet and then folded in half and be used as a phone. You'll have to pay a hefty premium for the device,m, $1980 and that's only the 4G version, as there's also a 5G version of it coming.
Samsung also worked with Google on some new software for multitasking, this time three app multitasking. There's also "App Continuity", a concept that lets you switch between screens and keep doing what you're doing. Inside the device there's a Snapdragon 855 CPU, 12 GB of RAM and 512 GB of UFS 3.0 storage, plus microSD card slot. There's two batteries on board, with a pretty meager capacity of 4380 mAh in total.
The device comes with an impressive camera setup, with 3 at the back, 2 inside and one upfront. There's a combo of 12 MP, 16 MP and 12 MP at the back, with a main dual pixel AF cam, ultra wide cam and telephoto cam with 2X optical zoom respectively. The front cameras are the 10 MP + 8 MP depth cam, while the cover one is a selfie 10 MP shooter. The fingerprint scanner has been placed on the side and it should be reasonably easy to reach. Samsung Galaxy Fold is going to be available in black, silver, green or blue and hinge also has color versions.
Screen-wise, the 7.3 incher is a Dynamic AMOLED with a QXGA resolution and 4.2:3 aspect. There's also a 4.6 inch HD+ Super AMOLED screen with a 21:9 aspect, in the folded/cover format. 12 GB of RAM and 512 GB of storage round up the list. Wired and wireless fast charging is also on the table. Android 9.0 Pie is the OS, but seriously tweaked.
So, any takers? It should come in April or May.