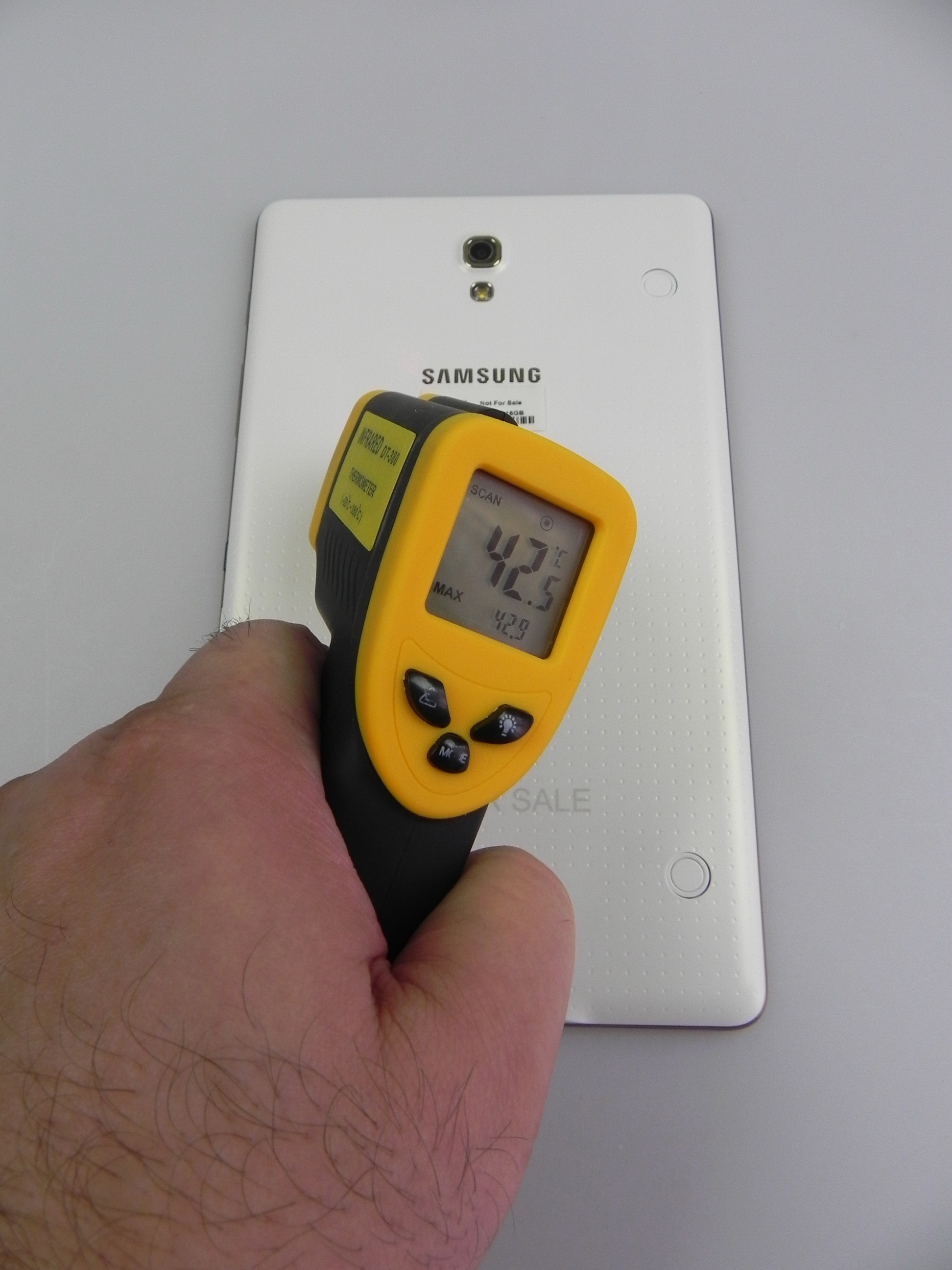 Samsung Galaxy Tab S 8.4 is the latest iPad Mini Retina challenger and right before we see a follow up from Apple for that model, this device manages to impress us. This model was announced back in June, launched in July and it comes with a Super AMOLED display, which is a feat that hasn't happened for years for Samsung.
It's priced at $400 and it's an 8.4 inch slate that is also available in a 10.5 inch flavour. The design of the 8.4 incher is slim and elegant and it's basically a bigger Samsung Galaxy S5. It measures 6.6 mm in thickness, so it's very thin, plus it weighs 294 grams. It comes with a perforated back, just like the Galaxy S5 and it offers good grip. Galaxy Tab S 8.4 offers good grip and it comes in white or brown, with a golden edge in the white version.
We've got a high build quality on this model, I'll guarantee that. This model is both slimmer and lighter than the iPad Mini Retina, in spite of its bigger screen. It's also easy to hold with one hand, while casually browsing or playing an endless runner. The case is all polycarbonate and the corners are rounded, plus the edges are flat. The front side hosts the front camera, sensors, physical Home button with fingerprint scanner below it, multitask and back capacitive buttons and small bezels.
The back side includes the main camera, flash and simple clickers, two dimples that go down into the tablet and they allow users to attach Book Cover accessories. At the top there's a microphone and speaker, while the bottom hosts another speaker and the audio jack, as well as the microUSB port. On the right side there's an On/Off button and infrared emitter, plus the microSD card slot. Galaxy Tab S 8.4 is narrow and elongated and it's made for landscape use, judging by its format. Moving on to the hardware, there's a Super AMOLED display on board, an 8.4 incher with a 2560 x 1600 pixel resolution and inside the slate there's an Exynos 5 Octa 5420 processor, with 4 Cortex A15 cores at 1.9 GHz and 4 Cortex A7 cores at 1.3 GHz.
Other specs include 3 GB of RAM, a Mali T628 GPU, 16/32 GB of storage and a microSD card slot that can host up to 128 GB of storage extra. The back camera is an 8 MP unit with LED flash, while the front one is a 2.1 MP model. Stereo speakers are also available, as well as an infrared emitter and a fingerprint scanner. On the connectivity side there's GPS, WiFi dual band A/B/G/N/AC, Bluetooth 4.0 and microUSB 2.0, as well as WiFi Direct, DLNA and MHL.
There's no NFC, strangely and finally we've got an accelerometer, gyroscope and a 4900 mAh 18.6 Wh battery. In our test, this battery achieved 13 hours and 33 minutes HD video playback time, which is very impressive by any standards. That happened with WiFi on and brightness at 50%. This time beats the iPad Mini Retina's 10 hours and 8 minutes and the iPad Mini's 12 hours, plus the LG G Pad 8.3's 7 hours and 40 minutes and the Xiaomi Mi Pad's 10 hours.
Overall, the battery is very impressive and the 3 hours of charging are OK in this context. There are power saving options in the Settings area, with the standard ones offering restricted performance, the option to disable vibration, limited maximum CPU performance and reduce screen frame rate, plus turn off touch key light. You can also turn off the GPS and set the device into a Grayscale mode.
Then there's the Ultra Power Save mode, borrowed from the Galaxy S5, that sets the device into a special functioning mode, that includes a grayscale interface, only essential apps shown on the screen and connectivity off. You'll basically get a day of use with 30% of battery, if you're using the device moderately in this mode. As far as acoustics go, there are stereo speakers here and the usual music player for a Samsung device. There's the already known UI, with playlists, tracks, albums, artists and Music Square, as well as Folders.
The Music Square offers options like Exciting, Joyful, Calm and Passionate, plus those squares between them. The speakers are loud, clear, they provide good bass and a crisp and warm sound. There's the Sound Alive section with equalizer options like Classic Rock, Pop, Jazz, Auto and the ability to focus on instruments, or the voice, or the treble or bass, by tapping a few special settings.
Effects include Tube Amp, Virtual 7.1, Small Room, Large Room and Concert Hall and in the Advanced section you can tweak sliders associated to 7 channels, that change the acoustics. Finally, there are 3 virtual buttons here, for 3D, bass and clarity. There's Adapt Sound to tweak headphone experience, play speed settings and Smart Volume that equalizes all track to a similar level. Overall, the sound is excellent and the speakers of the Galaxy Tab S 8.4 reach a decibel level of 84.5 dBA, beating the Xiaomi Mi Pad's 84.2, that was pretty loud itself. This is one of the loudest tablets we've tested.
Moving further to the screen, this one is an 8.4 incher with a Super AMOLED panel, a 2560 x 1600 pixel resolution and 359 ppi density. The blacks are deep, there's theoretically unlimited contrast ratio and there are individual pixels here that don't light up. AMOLEDs only light up parts of the screen that show colors, while the rest stays off. The display is crisp, shows great colors and it's vibrant and bright. This one is a really impressive display, with wide viewing angles and the video player features animated previews and support for the likes of MKV, AVI and MP4 files.
There's pinch to zoom during the video and the ability to change crop and play with brightness, play speed and Sound Alive options (Normal, Voices, Music and Virtual 7.1). There's also a Special viewing mode, triggered by pressing an upper screen area option. There's Pop Up Play as an option and the pixels are of the Pentile Matrix type. Contrast is 100.000:1, as advertised by Samsung itself in the latest Galaxy Tab S videos.
We've got two subpixels per pixel instead of 3 (the RGB Stripe setup). The brightness of this model is an interesting affair, with 382 LUX at the top and 432 LUX at the bottom. These levels beat other models we liked, like the Xiaomi Mi Pad and its 310 lux and it even beats the iPad Mini Retina and its 412 lux units. It's still far from the Nexus 7 2013's 500 lux, but you won't notice that for sure. Entering the settings area, we find Display options like Font, Smart Stay and Screen Mode, that includes Adaptive Display, AMOLED Cinema, AMOLED Photo and Basic.
There's also a Reading mode, that allows you to choose the apps that are opened in this mode, usually Play Books and other reading software. Finally, you can activate an option that auto adjusts the screen tone to save power and increase sensitivity to interact with the tablet using gloves. I should probably mention that this slate has an RGB sensor on board, that adjusts the color balance depending on the environment around.
Galaxy Tab S 8.4 is great in sunlight and it's the best tablet screen we've ever tested, EVER. Now let's discuss the camera a bit. This one is an 8 megapixel unit with LED flash and F/2.4 aperture. It takes pictures in 3264 x 2448 4:3 and 3264 x 1836 in 16:9. The front camera also has a F/2.4 aperture and the UI here is typical for Galaxy products. On the left side there's a front camera shortcut, flash option and settings, while on the right side there's the camera shutter, capture mode and gallery shortcut. The settings area includes all the goodies: picture size, burst mode, stabilization, face detection, ISO (up to 800), metering, video capture (Full HD and fast motion among options), video stabilization, effects (sepia, vintage and more), flash, timer, location, review pics, remote viewfinder, white balance, exposure, voice control and physical keys commands.
The capture modes include Auto, Beauty Face, Shot and More (Best Photo, Best Face, Drama, Eraser and Panning Shot), Panorama, HDR and Dual Cam. You can also download and manage more modes, if you want to. The camera supports 4X zoom, autofocus and the pictures taken with it are crisp and bright, maybe a bit too bright, on the sun burnt side of things. The picture taking is fast, so is the focus and the shots are oversaturated a bit. You can find a full gallery of shots taken with this tablet here.
We also get a bit of noise when we zoom in to get a better view of the pictures after they're taken. The macros are OK, panorama is wide and covers 180 degrees and the HDR is pretty good as well. I would say that the shots are slightly better than the ones of an iPad and about at the same level as the ones of the Xiaomi Mi Pad. Video capture is very nice, very smooth and there's even stereo audio to go with it.
Capture is done in MP4 and there's a slight bit of focus loss at times, plus lack of stabilization. Overall, this is better than 90% of the cameras on tablets on the market, including the iPads. The multiple options are a big bonus here. We've also got some unique Samsung features here, like the Studio ones, that allow you to create a collage, edit shots and even edit video or trim it. You can rotate or crop pictures, play with colors, contrast and brightness, as well as saturation, RGB, temperature and exposure. Effects, stickers, drawings and frames are all included. Video editing offers transitions, effects, sounds, pictures to include and text options.
We achieved 42.9 degrees Celsius after playing some games, which means the tablets gets heated, but not overheated and you can't feel it bothering you. The browser is fast and text looks crisp in it, while the keyboard is comfy and features a numeric row, plus floating and split options. And now here are the benchmarks:
As you can see, the octa core CPU inside isn't very impressive compared to other devices, but at least there's no lag. There is still the occasional lost frame in the UI, but you can easily run any high end game on the market. As far as software is concerned, we're running Android 4.4.2 with TouchWiz UI and Magazine UI on top, plus flat icons and two types of homescreens. We've got the regular ones from the TouchWiz UI and the Magazine UI ones, with tiles that are resizable and associated to apps, widgets and more.
You can add News sources, social networking apps, email apps, music widgets and video widgets to this collection of tiles. The UI is basically similar to the other new Galaxy devices and the notification area features the famous S Finger, that finds content and info using tags, location, contacts and pictures, for example. Also in the notification area there's an option called Quick Connect, that quickly connects to Nearby Devices, as its name says. Then there are the toggles, that include Toolbox, a small collection of apps, that can be moved around the screen and expanded.
There's Smart Pause and Private Mode also in the Toggles area and moving even further, there's the split screen Multi Window mode, that is trigged with the aid of a side bar, filled with apps. You can split the screen in two sections and switch the two areas, exchange content between them or resize them. The tablet's lockscreen displays "Cards" with info from the Magazine UI and in the Settings area we found the usual collection of rich features, stuff like Motions (Smart Pause, Palm Swipe to capture and more), Blocking Mode and finger scanner, that seemed to work a bit better than on the Galaxy S5.
You can use the fingerprint scanner to authorize shopping with PayPal, buy Samsung Store applications and unlock the device. Finally, we also checked out S Voice and as usual it was sluggish, while the UI lost the occasional frame. Samsung Galaxy Tab S 8.4 features a list of preinstalled apps, like My Files, S planner, Galaxy Apps (the new and rebranded Samsung app store), WatchON (not supported in my country), Peel SmartRemote, that allows you to control a TV set via infrared and Paper Garden. The latter is a novelty on Samsung devices, a collection of publications from Conde Nast tailored for Super AMOLED screens.
Then there's Side Sync 3.0, for syncing with your Galaxy S5 and even taking calls from it if I understood correctly, Remote PC, Webex from Cisco, BusinessWeek+, Evernote, Flipboard, Hancom Office Viewer, Netflix, NY Times, Kids Mode and that's pretty much it. Now let's see the Pros and Cons of this wonderful device.
Here are the Pros:
best screen in the business
excellent battery
very loud audio
good camera
good build and thin case
premium content worth hundreds of dollars
ultra power saving mode
And the Cons:
frame loss in the UI
cluttered magazine mode and settings area
many services don't work in parts of the world
low benchmark scores
no NFC
S Voice is useless
Samsung Galaxy Tab S 8.4 gets from us a 9.5 out of 10 for design, a solid 10 for hardware and a 9.3 for OS and UI. The finale grade is 9.6 out of 10, making this the best Android tablet of the year and certainly the tablet with the best screen of the entire 2014. If you want a perfect video experience on a friendly format, this is pretty much it.