Apple unveiled the new iPad today, or better said The New iPad… that's the official name folks! Unless Apple has a change of heart in the following hours, we don't have the iPad 3 on our hands or the iPad HD, just the NEW iPAD… The device does come with the Retina Display we were teased about and also with an A5X CPU, plus LTE connectivity.
The product will be available on March 16th and preorders start today. The device keeps the 9.7 inch diagonal, that now hosts 3.1 million pixels, for a 2048 x 1536 pixel resolution (264 ppi). The slate uses an A5X CPU and quad core graphics chip, that will make the PS Vita cry on its shoulder. Apple promises 4 times the performance of the Tegra 3 and I hope that there's more to them than talks. They also included the new iSight camera on the tablet, that's similar to the one on the iPhone 4S, but with a 5MP resolution.
This new cam does come with a backside illuminated sensor with a 5 element lens, so I expect top notch photo taking and 1080p video capture. LTE connectivity is also available, as well as the possibility to use the tablet as a portable WiFi hotspot. I was surprised to find outthat the new iPad recognizes bezel gestures, as it was shown in the iPhoto demo. The new iPad sports 21 Mbps HSPA+, LTE with up to 73 Mbps on Verizon and AT&T, so get ready for some heavy browsing and HD streaming. The weight of slate is now 1.4 lbs and the device measures 9.4mm, so it's beefier and heavier.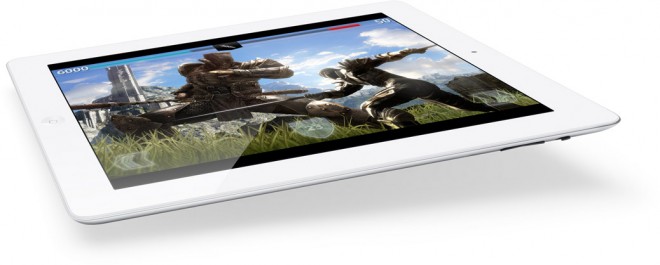 A thing that you'll like is that the tablet keeps the 10 hours of battery life and gives you 9 hours of fun on 4G. The pricing starts at $99 on the 16 GB WiFi version and reaches up to $829 on the 64GB vesion with 4G. Preorders are available now in USA, Canada, UK, France, Germany, Japan, Switzerland, Hong Kong, Singapore and Australia. No new accessories were introduced but we got to see some new features in Garage Band, a trailer making ability in iMovie. a new Infinity Blade title and of course iPhoto with tons of new effects.
But that NAME… that crappy name!? "The new iPad"? Really, Apple?