I don't want to get into "memberries", but remember when Google was prepping fresh new OSes for the future? They were coming up with Andromeda and Fuchsia, with plenty of leaks over the past 2 years. Now Fuchsia OS registered a big time leak, as it's been demoed in the video below.
Last we heard about it was in May last year, when a series of screenshots from its UI were leaked online. Back then it ran on tablets and mobile and now it's seen on a Pixelbook, courtesy of Ars Technica. The call it the "experimental, top secret OS" from Google. In May last year it was pretty barebones and many features were lacking, but now it seems to have evolved.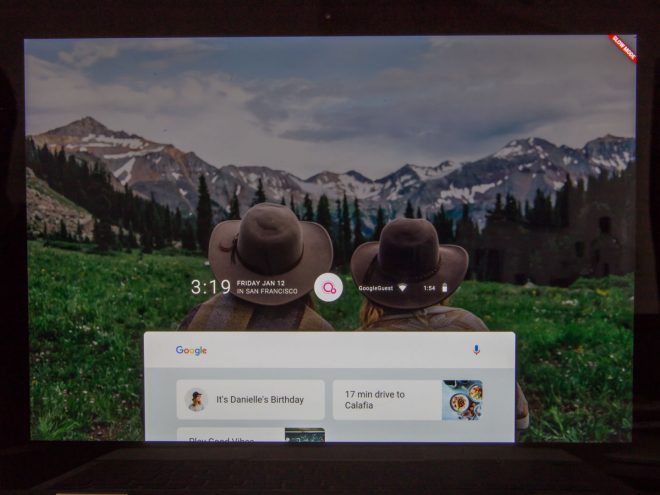 The Fuchsia system UI was written with a cross platform SDK dubbed "Flutter" and over the past year had shut down the compatible iOS and Android builds. Fuchsia comes with a Vulkan-based graphics stack and no emulator can support the new graphics API. It was only supported on the Intel NUC PCs from 2015 and the Acer Switch Alpha 12 laptop. But then recently the Google Pixelbook was added as a supported device.
Ars Technica ran the OS on that exact device, as sort of an app on top of Android. The only things that work are a guest mode used to log in, a bunch of apps and the simulation of the UI. The Internet browser can't load full pages and the music app doesn't work. At least you can explore its functioning modes, like smartphone, tablet and laptop.
There's also a Quick Settings shade, multitasking UI with a variety of split screen modes for apps, probably the best thing about this release. The home screen is the "Armadillo" user shell that was loaded on Android by tinkerers months ago. This time a lot of things work instead of being placeholders. At the center of the screen there's a status readout showing the date and time, Fuchsia button and connectivity, plus battery.
There's a lot of work to be done, but the project is coming along fine, especially in the multitasking. Be sure to watch the Ars Technica demo video below. Expect to see a breakthrough at I/O 2018.
Full screenshot credits to Ars Technica