Last month Lenovo launched a bunch of Chromebooks, the 100e, 300e and 500e rugged models, which are now available on sale. These are quite affordable and well built, being ideal for classrooms.
These are also called Chromebooks for Education. They were supposed to ship from the end of January, but they're only coming now. The Lenovo 100e is an Intel Celeron dual core machine, with 4 GB of RAM and an 11.6 inch non touch display. There are two USB 3.0 and USB Type-C ports on board, a rotating HD webcam and the battery life is estimated at around 10 hours.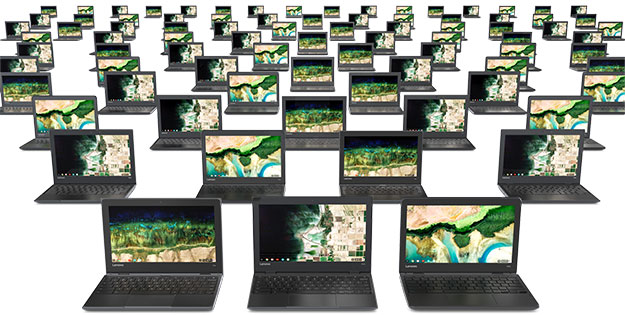 Then comes the Lenovo Chromebook 300e, with a MediaTek MT8173C processor, 4 GB of RAM, USB Type-C and USB 3.0. There's a 11.6 inch multitouch display and HDMI out. Moving on to higher end levels, there's the Chromebook 500e, with an 11.6 inch 1366 x 768 pixel display, a quad core Celeron CPU and between 4 and 8 GB of RAM. Two USB 3.0 ports are here, plus two USB Type-C ones.
Charging via USB Type-C is supported and there's also a stylus available, that docks inside the computer. All of these Chromebooks have rubber bumpers, reinforced ports and hinges, plus spill resilient keyboards, with extra reinforced keys. The 300e and 500e even offer a special 360 degree Yoga-style hinge. Prices are as follows:
Chromebook 100e: $219
Chromebook 300e: $269
Chromebook 500e: $309