If you want to buy some amazing products for a low price tag, then GearBest.com is the place to go. This retailer is one of the biggest from China and one of the greatest thing you should consider is the fact that it ships almost worldwide free. Today we're taking a closer look at GearBest's shopping app that is currently available for Android phones and tablets.
The app can be downloaded from here and as you expect from such a software, it allows us to quickly search and buy for the things we need on the go. It has around 5 MB and that means it won't take a lot of memory once installed on your device. In the following lines you can find out more about its main categories and important info about the buying process.
After you install the GearBest app on your device, the first thing you'll see will be the Gadget Deals, Flash Deals and also other recommandations from the retailer. On the top we have the Search Bar where you can of course search for your wanted product, while on the bottom we get 5 different buttons as you can see in the screen capture above.
The first one is called Home and once pressed it will take you straight to the main page with all the suggestions and the search bar. Next we have Categories and you can imagine what happens here, all the products available on GearBest.com are listed in a lot of categories for you to choose from. We have the Cart button next,  the Video section where you can see video reviews from editors and other buyers, and finally there's the Account button.
From here you can sign in with your email and password, or even with Facebook or Google. There's an option if you forgot your password and if you're not a member yet, then the register button is placed on the right. Getting to the next part – Shopping -, as I said above, the process is really simple and clever. Once you'll find the product you're looking for, all you need is to press the – Add to cart – button and also choose from here the color and quantity. Next, you'll press the Cart button found on the left and proceed to checkout paying with your credit card or online services like PayPal. And now all you need to do is relax and wait for your product to arrive!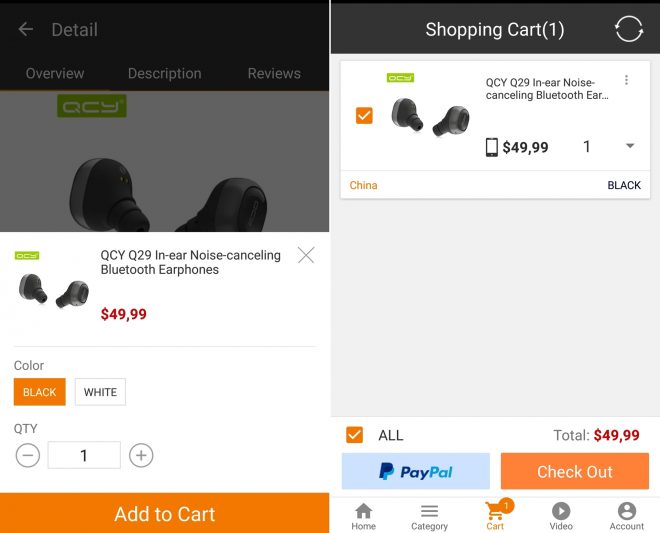 Pretty simple, isn't? One more thing you should know is that you can win GB points while shopping and then use them for a discount on the next acquisition – promotion that definitely sounds good. 50 points will be awarded on registration and you can pay an order even if you won't login or register on the GearBest.com app. That being said, happy shopping!