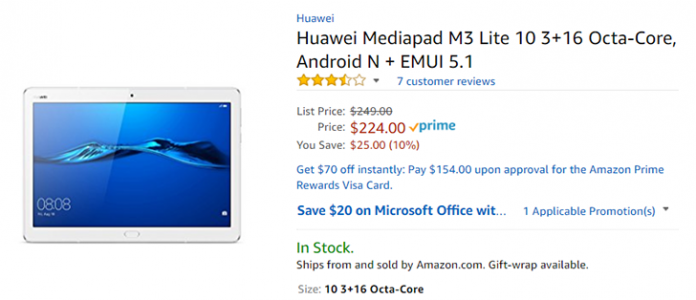 About a month ago Huawei launched a set of MediaPad tablets, that are already getting price cuts. Those models are the MediaPad T3 and MediaPad M3 Lite, in 10 and 8 inch model versions. The price cuts start at $15 and go as high as $30 on Amazon and Newegg.
First up in line is the MediaPad T3, available in 10 inch and 8 inch versions, priced at $159 or $139 respectively. Right now they're at $139 and $119 on Newegg. Amazon offers the 8 inch version on sale, a bit higher at $124, but still a reasonable price. Both slates feature Snapdragon 425 processors, 16 GB of storage, 2 GB of RAM and a 4800 mAh battery.
The screen resolution is 1280 x 800 pixels and that should be enough for the 8 incher, while on 10 inches you may want more. The MediaPad M3 Lite is also part of the price cut, with a higher end setup than the T3 models. Its 10 inch and 8 inch models are sold for $249 and $199 respectively. They get to $224 and $174 on Amazon right now.
The slates come with a faster Snapdragon 430 processor, 16 GB of storage, 3 GB of RAM and a 1920 x 1200 pixel resolution. The 8 inch model has a 4800 mAh battery, while the 10 inch one brings a 6600 mAh battery. All of the devices mentioned above run on Android 7.0 Nougat with EMUI 5.1 on top. We made things easier for you, listing the links where you can buy the products:
Amazon: