Windows Store is now also showing desktop apps, not only the ones typical for Windows 10 tablets and phones. It all comes after Microsoft provided tools, that allow developers to convert Win 32 apps to Windows Store apps. Among the newcomers there's also Evernote, as shown below.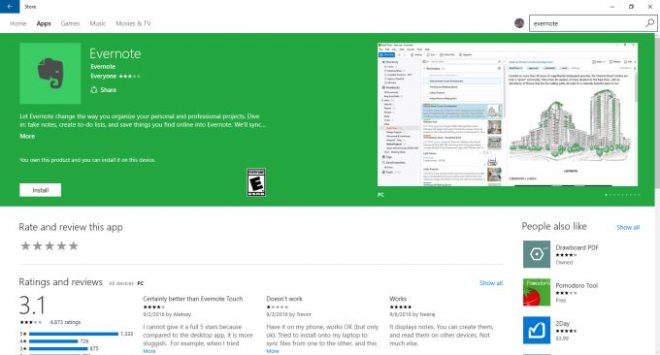 The list of fresh arrivals also includes Double Twist, MAGIX Movie Edit Pro and Arduino IDE. You are required to be running Windows 10 Anniversary update in order to install the latest versions of the apps. Developers can use the Microsoft Desktop Bridge, previously known as Project Centennial tools in order to convert existing desktop app to "Universal Windows Platform" software.
There are perks to downloading such apps, like a single billing account for all those hundreds of apps, running software in a sandboxed environment, which means the install is a bit safer and so forth. Universal Windows Platform apps are able to run on a variety of devices, ranging from PCs to phones, HoloLens and Xbox One, although there will be some that still won't work.