There's been no shortage of Samsung Galaxy Tab S6 leaks, even back in the day when it was called Galaxy Tab S5. We saw a bunch of blurry hands on shots and then last week we also got to see some renders of the device, in full glory and details. Now we have even more renders, focused on a keyboard accessory and second front camera.
We're not yet sure if Samsung will have this tablet ready in time for the Galaxy Note 10 unveiling on August 7th, or if it's keeping it for IFA 2019. What we do know is that the device will have a keyboard accessory, a gray one, as shown here. It uses a side mounted connector to hook up to the tablet, like the Galaxy Tab S5e. There's also a back covered, that attaches via magnets.
The rear bit is used to protect the device and there's also a kickstand from what I can see. Samsung Galaxy Tab S6 also seems to feature a second front camera, according to Sammobile, so aside from the dual back camera, we also have a dual front cam. It could be for face unlock, or maybe Bokeh selfie, even though I doubt that. Preliminary spec leaks have mentioned a Snapdragon 855 CPU, 6 GB of RAM and 128 GB of storage, plus a 6850 mAh battery.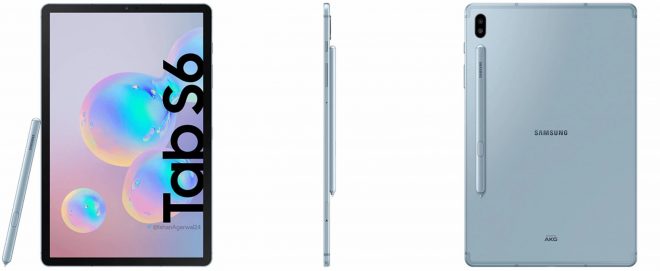 Back to the keyboard for a bit, it looks rather generous, with big keys and a large trackpad, so it's not half bad. Hopefully it's not as pricey as the Tab S4 one.