Chuwi continues to be on a roll, with its anniversary campaign available till September 25th. They have quite a few appealing tablets on offer, including the models we've shown below. The promo goes on and some of these models are meant for productivity, ideal for the early back to school period. So, here we go: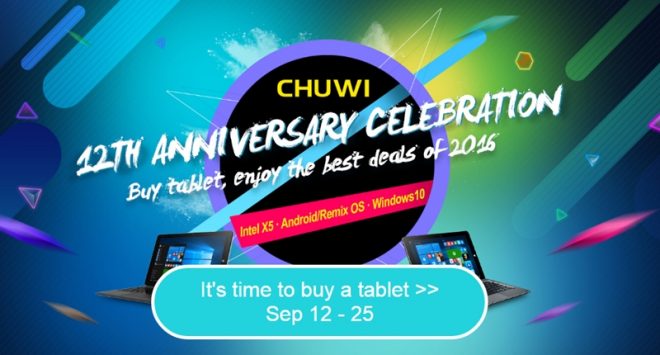 Chuwi Vi10 Plus
Among the discounted products there's the Chuwi Vi10 Plus, a device that offers a dual boot config, including Remix OS 2.0, based on Android 5.1 Lollipop and Windows 10. There's also entertainment features mixed with business ones and a 10.8 inch IPS screen with a Full HD res, plus an Intel Z8300 quad core CPU, clocked at 1.44 GHz.
Then there's 2 GB of DDR3L RAM, 32 GB of storage and a microSD card slot. A 2 MP front and back cam are here, plus an 8400 mAh battery. It all adds up to $149.99.
Chuwi Hi10 Pro
This model can turn into a genuine notebook, once a keyboard dock gets attached (purchased separately). This model offers Remix OS + Windows 10 in a bundle, as well as a quad core Intel Cherry Trail Z8300 CPU and 64 GB of storage. The Chuwi Hi10 Pro packs a 10.1 inch Full HD screen, 4 GB of RAM and a HDMI port, so your fun will be televised too.
Two 2 MP shooters are included, plus Bluetooth 4.0 and a 6500 mAh battery. The device is priced at a very good $159.99 these days.
Chuwi HiBook Pro
Last, but never least is a more hardcore hitter, the Quad HD 10.1 incher Chuwi HiBook Pro, with 4 GB of RAM and an Intel Cherry Trial Z8330 CPU clocked at 1.44 GHz, with 64 GB of storage and a microSD card slot. Once again we get a HDMI port, but this time there's a 5 MP back camera and an 8000 mAh battery. The product relies on a dual boot config, made of Android 5.1 and Windows 10.
It's priced at just $193.99.
You should also know that by September 25th all Chuwi customers will be able to get money prizes. Thus, every day of the campaign there will be 2 winners that will get their money back for the freshly ordered slate. There's also a contest on Facebook here, on the Chuwi forum here and on Twitter they're offering 5 prizes, each worth $50. The anniversary campaign is here.