Yesterday ASUS unveiled its Vivo Tab RT and as we look forward to the official unveiling of Windows 8 and Windows RT, big tech blogs and sites starting publishing their very own reviews for the flagship Win 8 slate: the Surface Tablet. Some of them are happy with the newcomer, some complain about performance and buggy software, while some simply adore the design and the magnesium case. We gathered the 5 most relevant reviews on the web in a compilation you can check out below.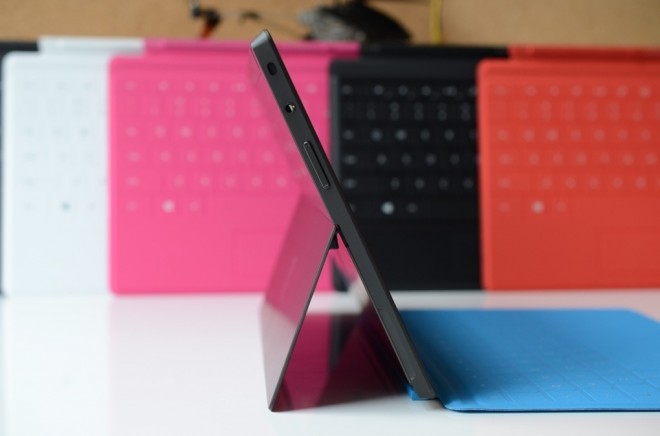 1) The Verge review – Happy With Surface Tablet, But Not that Much
The Verge's Joshua Topolsky calls the new tablet handsome and it seems that the rectangular slab made with magnesium alloy forged from VaporMg really made an impression. However, the device supposedly feels huge in the user's hand, at 10.81 inches across in landscape and 0.37 inches thick. In portrait it's also pretty hard to handle. On the good side, the colors on the screen look stunning and so do the blacks and the resolution of 1366 x 768 pixels leaves a bit to be desired, but at least touch response is excellent.
They gave the tablet a 7 out of 10, with weak ecosystem and buggy software, plus hit and miss performance being the main issues here.
2) Engadget review – Not a Toy, Great Engineering
Tim Stevens from Engadget posted a detailed review, saying that the inclination of the slate offers a reassuring feel when walking around with the device under one arm. He also claims that this device is actually a pretty capable laptop replacement, with the 3 mm touch cover being surprisingly good with input, when it comes to keyboard action. Battery life is at 9.36 hours, according to their tests, falling behind quite a bunch of rival models sadly. Cold boot is done in under 25 seconds, which is quite ok and the device responds very well to taps and swipes.
The camera is said to be poor and to wrap it up, they said that the device rates well, but differently from ASUS and Apple products. It's a working tablet, not a toy, that's the conclusion.
3) CNET review – Elegant, but plagued by lack of apps, sluggish performance
Like Engadget, CNET's Eric Franklin consider this the best productivity tablet yet. They praise the Metro UI, the elegance of the product, its power and versatility. The bad is that the tablet has sluggish performance, the Windows Store is not at all well populated and it takes a while to get used to Metro. Also, the Desktop interface feels kind of useless and doesn't fit the experience. You should also know that unless a site has green light from Microsoft for Flash on IE 10, you won't be able to access it. Also IE feels slow, like a snail, especially when compared to the iPad and Safari.
In the brightness tests, Surface scored below ASUS Infinity Pad and iPad 3 in maximum brightness and overall CNET said that there's no reason to replace your laptop with a Surface just yet, since it has a long way to go ahead.
4) BGR review – no bloatware, split personality, perfect combo of tablet and notebook
BGR's Zach Epstein calls the Surface tablet a beauty and claims that MS wanted to reinvent the PC and they did it. We're dealing with a light and portable device and BGR claims that the battery gave a full day of usage without problems. Streaming video worked fine and the editor also praised the lack of bloatware, crapware or other useless software. He also calls the device two products in one, one the one hand a great engineering product and on the other a notebook with the Touch Cover and Type Cover.
BGR also says that the Metro UI and Windows 8 experience may scare new users and turn them away. However, those who are open to novelty will love it.
5) Gizmodo review – Too pricey, lot of potential
Gizmodo's Sam Biddle claims that this product was the biggest tech surprise of the year up until now. He claims that the Surface tablet is a clear attempt to fight back Apple, with a great piece of design and a brilliant hinge, also with a brilliant sounds, praised by the latest Microsoft as as well. Surface is called a beautiful computer, both in the hand and on the tablet, with clean and secure angles. It's got a perfect size, both in tablet and laptop mode. However, the device is not worth your paycheck, according to the reviewer, since the device is "undercooked".
Surface RT has some problems and the Touch Cover is seen as one of them. Although it's a great engineering effort it's not a really good keyboard in the end, with constant typos and problems. In the end we're advised not to buy the product and wait a bit longer for a more evolved version or a price drop.
So there you have it folks, overall a pretty negative outcome of reviews, if you ask me. Everyone praises the hardware and everyone criticizes the software, the lack of apps and the sluggishness of the platform. They love how this feels like a laptop replacement, but after a couple of days it becomes annoying. It's a paradox: a software company made a good hardware product with bad software…