The Evolio X7 is a tablet from Eastern Europe, Romania and a device with a 7 inch diagonal, that has a reasonable price tag. This model is actually the highest resolution 7 incher in the country and it's priced at just $155. It has a 2 year warranty and it's a low cost quad core device.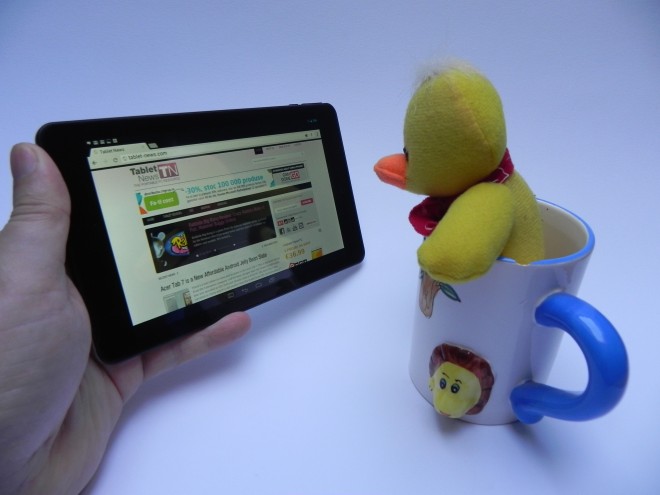 The design of the Evolio X7 is an ultraslim one and the product offers buttons with good feedback. It sits well in the user's hand and it works swell for e-reading. The slate has a metallic case, it measures 7.35 mm in thickness, so it's pretty thin and weighs 270 grams, also impressive. This model has a design that may remind you a little bit of the Nexus 7 2013, because it's so elongated. Finally, it offers good grip and a solid case, for the occasional drop on the floor.
Inside the Evolio X7 we find a quad core Cortex A9 processor, a Rockchip RK3188T 1.4 GHz CPU, as well as a Mali 400 MP GPU and upfront rests an IPS Super HD screen with a 7 inch diagonal and a 1280 x 800 pixel resolution. Storage is 8 GB and we've got 1 GB of RAM on board, a microSD card slot, a 2 MP back camera and a front 0.3 MP webcam.
On the connectivity side there's Bluetooth, 3G modem compatibility and WiFi, as well as mini HDMI. The X7 has a 3000 mAh Li-Ion unit, that achieves 4 hours and 17 minutes of continuous HD video playback, with brightness at 50% and WiFi on. This is not very impressive, I have to say, but for this price, we'll make a pass. The battery takes 3 hours to charge, which is too much in my book. At least the first 20% charge in about 20 minutes, so you get enough juice for basic functioning.
As far as the audio is concerned, the volume is OK and the guitars are pretty nicely heard on the speakers. The bass isn't very powerful, but you can solve all the issues you have with the sound using the EQ. Overall the audio is OK, although at maximum level the sound may appear broken. Evolio X7's screen is a 7 incher with wide view angles, vivid colors, no oversaturation and a reasonably bright panel included in the mix. This panel achieves 193 lux units and the screen uses RGB stripe pixels.
The problem with this screen is that the resolution is big and the diagonal is small, plus the UI is unfit for the 1280 x 800 pixel res. This results in an interface with very small items, icons and buttons, that are very hard to press if you have sausage fingers. Other than that you'll find a nice screen for watching video and e-reading.
The back camera is a 2 MP neglectable unit, in my book and it comes with options like scene modes (auto and night), location options, white balance, panorama, time lapse and overall you can neglect this sensor. The Evolio X7 reaches 34.3 degrees Celsius after 15 minutes of playing Riptide GP2, so as far as gaming goes, there's no overheating.
This device runs Riptide GP2 and Bounty Hunter Black Dawn, which is a Borderlands clone, so I'd say it handles gaming well. There's no lag in the everyday functioning and we've got Android 4.2.2 as the OS here. The web browser offers a reasonable speed, but not a fantastic one, as shown by the result of just 1348 points in BrowserMark 2.0.
As far as benchmarks are concerned, I compared the Evolio X7 tablet to the Utok 700Q and Serioux S785 Quattro, both two also Romanian models. The Evolio X7 scores 4815 points in Quadrant, beating the Serioux by 2300 points and 18163 points in AnTuTu, beating the Utok model by 6000 points and the Serioux one by the same amount. In NenaMark 2.0 scores were close with 57.2 FPS for the Evolio X7, followed by 58.1 FPS for the Utok unit and 61.6 FPS for Serioux. Vellamo gives us another good score of 2040 points, versus the 1200 of the other two units. Finally 3DMark offers a score of 3251 points, beaten by the Utok 700Q, with a score of 4926 and by the Serioux with 4000 points.
The performance surpasses the one of the rivals, at least in some areas, but in the day to day experience there's absolutely no lag and no problem. The software customization is minimal, involving only a screenshot button and special settings for HDMI and Screenshot. Moving on to the apps, this device has preinstalled applications like Aldiko, working both as e-book store and e-reader, Facebook, Autovit, a local car shop and Norton Mobile Security.
There's also Pinterest, an online press app and Seenow for movie watching online. And now for the Pros and Cons:
Here are the Pros:
slim design
high resolution
good audio
nice screen
Norton Mobile Security bundled
HDMI port
good price
no lag
And the Cons:
UI is not adapted to the high resolution
charges for too long (3 hours)
some apps start up with a strange screen rotation and force this orientation
battery could be better
The Evolio X7 gets from us a 9 for design, a 9 for hardware and a 9 for OS and UI, with a final grade of 9 out of 10. The price is $155 and this model is a solid buy on the Eastern European market.