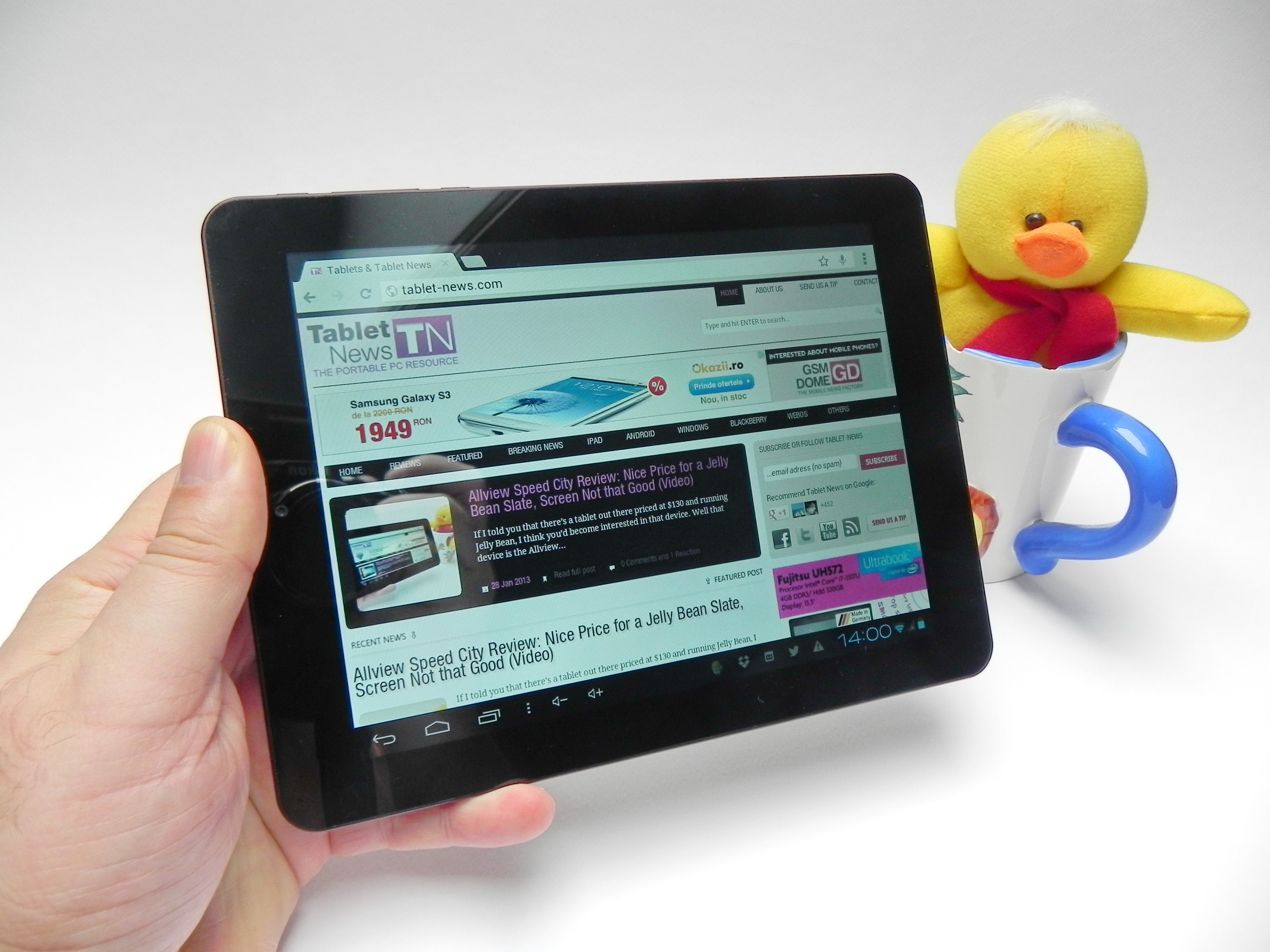 We've tested a bunch of Eastern European tablets here at Tablet-News.com, including some Romanian models from Evolio, Allview and recently E-Boda. The latest such device is the E-Boda Supreme IPS Dual Core X200, a 9.7 inch tablet, priced at $312 and not really standing out from the crowd. This device was launched in late 2012 and has some bugs and issues, that its smaller brethren, the X80 also had: random resets, overheating and battery indicator problems.
The device's design is totally similar to the one of the Yarvik Gotab Zeta and Allview Alldro 3 Speed, two models we've already shown you here at Tablet News. The E-Boda X200 has a metal back, a solid design, big bezels, plus the usual array of ports and slots on a single side of the device, including the audio jack, mini HDMI, microSD and two microUSB ports. At the back we've got a Reset hole, two speakers and a camera. The slate measures 11.7 mm in thickness, weighs 600 grams and features 8 GB of flash storage and an extra 8 GB courtesy of a bundled 8 GB card in the package.
Other features include a 9.7 inch IPS screen, with a resolution of 1024 x 768 pixels, 10 point multitouch, 132 ppi density and inside the tablet we find a Rockchip 3066 dual core 1.5 GHz processor. There's also a Mali quad core 400 MHz GPU, 1 GB of DDR3 RAM and WiFi on board. What's lacking is Bluetooth and GPS and on the camera front, we've got a 2 MP shooter at the back and a front 0.3 MP sensor. The back camera does 640 x 480 pixel video capture, at 10 FPS, so it's nothing special.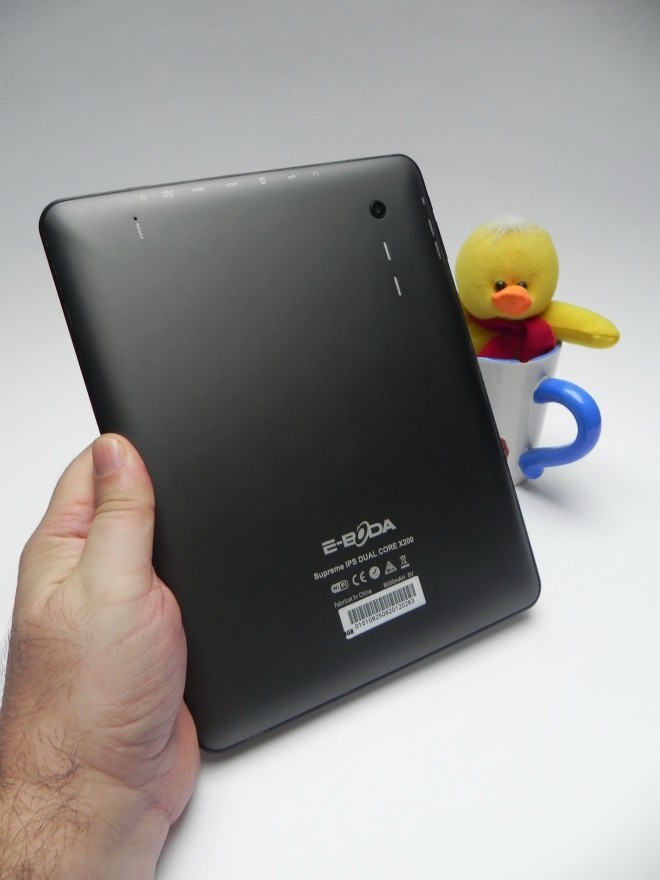 The battery inside the E-Boda X200 is a 8000 mAh unit, good enough for 5 hours of gaming, according to our tests. Sadly, the battery indicator was a bit random, so we can't really have faith in it, since it constantly changed the percentage to something higher or lower. As far as the audio playback goes, the device has OK bass and volume, but an Allview tablet is better in that department. Also, the bundled headphones offer an underwhelming sound experience.
On the video side we've got good viewing angles, but washed out colors and the brightness is lower than the one of the Evolio Aria tablet. Finally, the camera is neglectable, honestly, since it takes noisy pictures and doesn't have a flash or touch focus. This tablet runs Android 4.0.4 with no customization whatsoever and originally with a bit of lag, so we resorted to the Go Launcher HD to make things snappy. We also benchmarked this product, getting pretty good results on the GPU front, where we scored 57.7 FPS in NenaMark 2, which isi almost double compared to the Evolio Aria and Allview Alldro 3 Speed duo, two other dual core Romanian tablets with the same price.
Sadly, the AnTuTu benchmark didn't work on this device, while in Quadrant we got 3790 points, close to the 3800 of the Evolio Aria and 3200 of the Allview tablet. As far as problems go, this device tends to overheat, the battery indicator goes crazy and it gets random resets. If you're looking for bundled apps, the only ones available here are actually app stores, like the 1 Mobile Market and Slide Me Market, with the first being a Google Play clone and the second an app store with antique looks.
And now it's time to draw the conclusions about this device and see the Pros and Cons. On the Pros side we have the following:
solid design
OK battery
good viewing angles
2 microUSB ports
bundled headphones and 8 GB card
good benchmarks
good audio
And on the Cons side:
overheating
battery indicator issues
random resets
washed out display colors
a bit of lag
poor headphones
common design
We give the E-Boda X200 an 8 out of 10 for design, 6 for hardware and an 8 for OS and UI, for a total of 7.33 out of 10. If it wasn't for the resets and battery indicator, this model would get much more love from us…