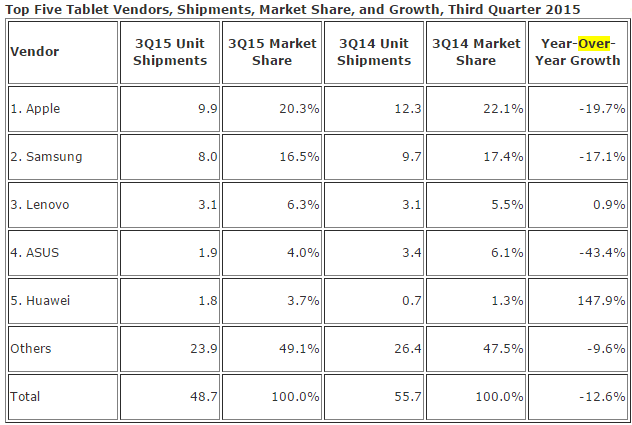 Among the research companies found on the market, we also have IDC, company that reveals some pretty interesting info today. More precisely, in the table below you'll find the numbers regarding the tablet shipments in the 3rd quarter of 2015, period that started on July 1st and ended on September 30th.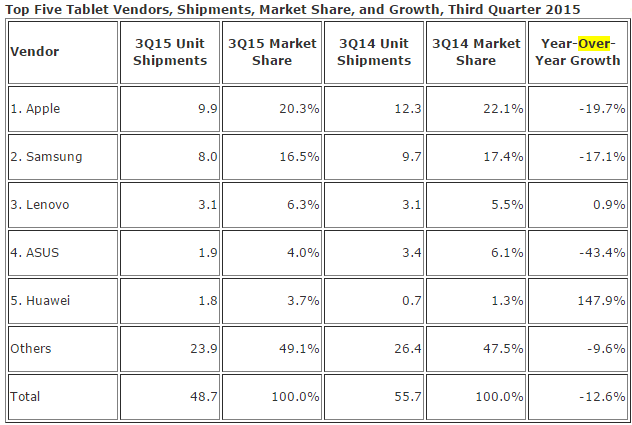 As you can notice, even Apple is facing some drops in terms of shipments, with just 9.9 million tablets sold in this quarter, compared to the 12.3 million units shipped last year in the same time table. Samsung is placed on the 2nd place with 8 million tablets sold in this 3-month period, number with 1.7 million smaller compared to the last year sales.
Huawei on the other hand, managed to sell 1.8 million tablets in this 3rd quarter, with 1.1 million more devices than the same period from last year. Globally speaking, we see that the tablet market declined with 12.6% in this quarter compared to last year, with 48.7 million slates shipped.