Amazon's CEO Jeff Bezos took the stage in Santa Monica – U.S. to introduce the new Kindle products. With the first Kindle Fire Amazon managed to pick up third place worldwide in the number of tablets sold per second in the Android universe after Samsung and before ASUS, Barnes & Noble and other big names in the industry. The new Kindle Fire HD 7-inch offers a faster CPU by 40% over the previous generation, IPS display technology and two times more RAM then the first gen tablet – 1GB. Two times more internal storage is available taking it to 16 GB – double the size from the previous generation. Similar – comfortable to hold – design. Improved Wi-Fi with two antennas on 2.4 GHz / 5 GHz offers the fastest speeds. Let's see a comparison table between the Kindle Fire HD 7-inch and the Google Nexus 7: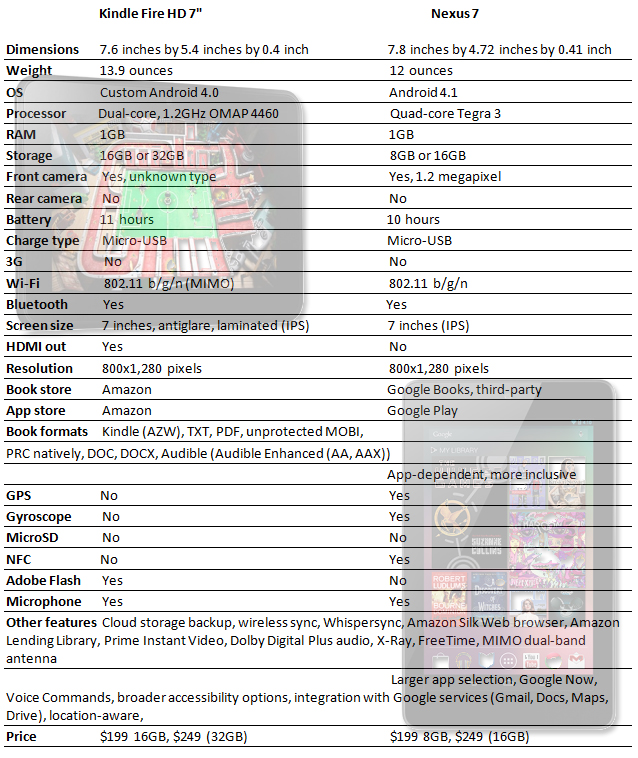 While managing to retain the same price point the Amazon Kindle Fire HD is in many ways inferior to the Nexus 7 but still not to be taken lightly. In the display department both offer same size, same resolution and technology screens with some polish on the Fire HD side. The fastest chipset is the one fond in the Nexus 7 with it's quad-core configuration. The Fire HD is powered by the same chipset found in the Galaxy Nexus which is by no means a slouch when it comes to performance. The Kindle Fire HD gets some poits due to its internal storage/price options, something Google should have done when they launched the Nexus 7.
On the software side the Jelly Bean running Google tablet holds the upper hand as expected and is the one to be considered if you care for the latest version of Android. The Amazon Kindle Fire HD runs a custom tailored version of Android ICS that still needs some polishing to reach the expected level of performance. The Amazon tablet also offers improved Wi-Fi with two antennas claiming to be the fastest on the market. Both offer a wide range of services, with Amazon holding the upper hand in some areas as it's older in the business.
Which one should you get? Choosing a device is never easy and personal differences always come first. The Kindle Fire HD 7-inch is a solid offer, especially if you've been relying on Amazon's services before. Google still manages to offer the best in class at an exceptional price and their product's value will decrease slower the the Kindle Fire HD. If you're into higher capacity internal memory and Amazon products then the Kindle Fire is the way to go. Other then that the Nexus 7 is still the best for it's price.