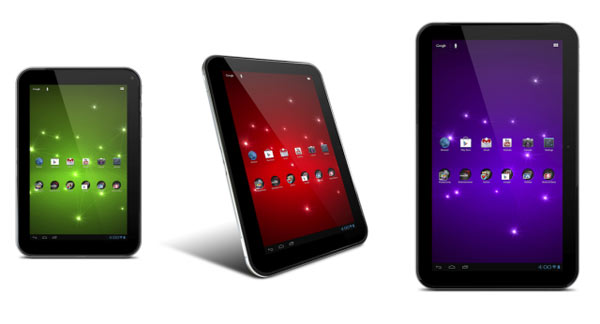 Toshiba just unveiled 3 new tablet models pertaining to the Excite series, the Excite 7.7, 10 and the Excite 13. As their names show, these are 7.7 inch, 10.1 inch and 13.3 inch slates. All 3 come with Nvidia Tegra 3 quad core processors, 1 GB of RAM, 5 MP cameras and 2 MP front cams.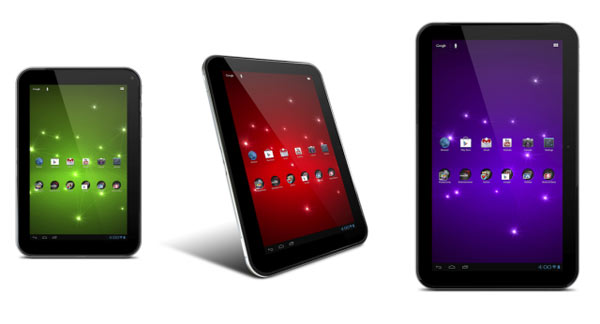 The Excite 13 and 10 models feature SD card slots, micro HDMI ports, while the Excite 7.7 only packs a microSD card slot. We've heard about the 13.3 inch Toshiba Excite before, but its debut so soon is a pleasant surprise still. This device relies on a huge 13.3 inch IPS display with a 1600 x 900 pixel resolution. We're talking about a device here that weighs 990 grams and measures 10.1 mm in thickness, room enough to integrate a big battery on the slate and give 13 hours of battery life. Since this is a big device, that will tire your arms, it's only logical that it ships with a tablet stand.
Then there's the Toshiba Excite 10, that's not to be confused with the thinner Toshiba Excite 10 LE unit. The Excite 10 supports a 1280 x 800 pixel res on that 10.1 inch screen on board, weighs 600 grams and measures 8.9mm in waistline. The device offers 10 hours of battery life and moving on to the junior, the 7.7 inch model relies on AMOLED screen tech, weighs 380 grams and measures 7.6mm in thickness. With the quad core Tegra 3 in the mix it's a very nifty rival and alternative for the Galaxy Tab 7.7.
As far as pricing goes, the 32GB Toshiba Excite 13 will be up for purchase for $650, while the 64GB unit will cost $750. Also, the 16 GB version of the Toshiba Excite 10 and 7.7 will be sold for $450 and $500 respectively. Excite 10 hits the stores in May, while the others in June.