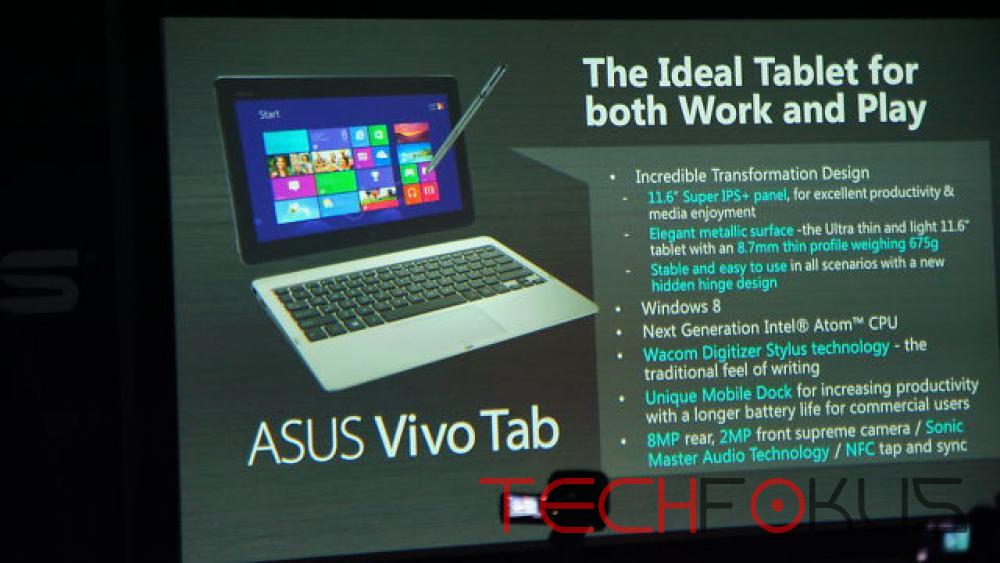 Back at Computex ASUS unveiled the Windows 8 and RT tablets called Tablet 810 and Tablet 600. Then they were prototypes, but today they are the final versions, getting rebranded to ASUS Vivo Tab and Vivo Tab RT. The Vivo is the model previously named Tablet 810, with the Intel 32 nm Clover Trail Atom platform.
This device didn't have a clock speed mentioned, but what we do know is that it brings 2 GB of memory and 64 GB of storage. Other features include a 11.6 inch Super IPS+ display, with a 1366 x 768 pixel resolution, a capacitive touchscreen with Wacom digitizer stylus and natural pen input. The Vivo Tab weighs 675 grams and is merely 8.7 mm thick. It also gets built in NFC and at the back we find an 8 megapixel camera, while upfront there's a 2 megapixel shooter.
Meanwhile, Vivo Tab RT is the ASUS Tablet 600, based on ARM and running on top of Nvidia's Tegra 3 processor. The size is a bit slimmer at 8.3 mm in thickness and 520 grams in weight. The display is only 10.1 inches in diagonal and you get the same 1366 x 768 resolution and a Super IPS+ panel. NFC is still here, as well as 2 GB of memory and 32 GB of eMMC storage. Both models will benefit from accessories like an optional mobile dock with keyboard, trackpad and two USB ports on the Vivo and one on the RT. Of course, the dock adds extra battery.
No idea when these models launch, but they're expected to show up at the same time with Windows 8, at the end of October.