In many ways Huawei MediaPad M3 is both a first and a last model, since it's an excellent cooperation between Huawei and Harman/Kardon, but it may also be the last, since Samsung bought Harman. Thus, let's enjoy it while it lasts, since we area dealing with a bit of a musical slate here, a genuine party starter, that happens to also have very good cameras. Unveiled at IFA 2016, this product is priced at $381 in the basic version or $498 in the pricier model, with more storage, LTE and AKG headphones bundled.
This slim metal device is an 8.4 incher that won multiple awards after its debut at IFA. Available in gold and silver, this slate adopts an unibody metal shell and has a sexy design approach, seemingly borrowed from the latest Huawei and P series phones. Measuring just 7.3 mm in thickness, the product also weighs a mere 310 grams and even though those are impressive, they can't compared to the iPad Mini 4 6.1 mm thickness and 293 gram weight.
Galaxy Tab S2, the smaller one is also more compact, at 5.6 mm and 265 grams. I should probably mention that this tablet is longer than its rivals, but still pretty ergonomic. It's got comfy buttons, feels light in the hand and provides solid grip. It has a curved back and feels both fancy and different from the norm. It's clearly meant for video consumption, on account of its 16:9 landscape approach.
The front doesn't draw too many prints and the downside is that in the long run, you'll feel the device cutting into your palm, because of its sharp metal edges, that will bother you when holding the slate for too long. Still, a premium and elegant model. Now we move on to the display, an 8.4 inch IPS LCD, with a 2560 x 1600 pixel resolution and 359 ppi density.
Huawei promises view angles of 80/80/80/80 degrees and offers 16 million colors, plus a contrast of 1500:1. On paper we are also promised 400 nits of brightness. but let's let our tests do the talking. The video player on offer here has a SWS option, a Pop Up Play feature and also lets you set the speed of video playback. The viewing experience is bright and crisp, we get wide view angles and the colors are well calibrated.
The depth of the black is OK, but there are also caveats, like the reflective screen, modest contrast and so-so view angles. Pixels have an RGB Stripes stup and the level of brightness we measured is 348 LUX, with some lack of uniformity. Frankly speaking, this brightness should be higher for a modern device. At least it beats the Xiaomi Mi Pad 1, ASUS ZenPad S 8.0, but also scores below the iPad Mini 2 and Nexus 7 2013 (508 LUX).
Settings are quite generous in this area, with a View mode that has the options Large, Medium and Small, plus font size, brightness and color temperature (a hue circle, warm or cold). There's also a Color Mode feature (normal or vivid) and Eye Comfort, that removes the blue light in order for you to sleep better. I have to say that the screen could be better, especially the brightness, but indoors it works just fine.
Now let's see what the other hardware brings. There's a HiSilicon Kirin 950 CPU here, an octa core chip clocked at up to 2.3 GHz and known from the Huawei Mate 8. It also brings a Mali T880 MP4 GPU and the device packs 4 GB of LPDDR4 RAM, plus 32 or 64 GB of storage and a microSD card slot. There's no lag here, the UI is quite fluid and the performance is solid.
The games run without a hitch, including the likes of Riptide GP Renegade. Benchmarks such as Quadrant brought us above the Nokia N1, but below the Xiaomi Mi Pad 2. In AnTuTu 6 we took the first spot from all the tablets we've tested for the past year and even beat the Lenovo Yoga Tab 3 Pro and Xiaomi Mi Pad 2. In 3DMark Ice Storm Unlimited we scored almost the same as the Nokia N1 and about 1k points below the iPad Air 2.
In GeekBench 3 we did manage a solid performance, beating the iPad Air 2 in the multi core sub-test. The performance is good and now let's see if the temperature also plays out OK. We reached 33.8 degrees Celsius after running GFXBench and 35.5 degrees after running Riptide GP Renegade, so both are good and there's no overheating.
The battery is a 5100 mAh unit (3.82V) and the charger is a 5V/2A one, bundled with the device and somehow constantly making a buzzing sound. On paper we're promised 11 hours of video playback or 45 hours of music, which sounds great. In our HD video playback test we achieved 8 hours and 6 minutes of continuous playback, not exactly impressive and 26 minutes below the Nokia N1.
It's also 2 hours below the Xiaomi Mi Pad 1, but at least it beats the Xiaomi Mi Pad 2 and ASUS ZenPad S 8.0. In PCMark, the continuous usage test we got to 6 hours and 33 minutes, which is yet again modest. Once again it beats the ZenPad S 8.0 and ZenPad 7.0, but scores below the Nokia N1 and Xiaomi Mi Pad 2. Charging is pretty long, 3 hours and 15 minutes, somehow better than the charging time of the iPad Air 2 and Nokia N1.
Settings for the Battery are pretty much the same you'd get on a Huawei Nova let's say. There's one touch optimization, WiFi on during sleep and the option to close excessively draining apps. We also have a Power Plan function, with 2 sub modes, Performance and Smart. They allow you to adjust the CPU and network usage, in quite effective manner.
We also have ROG Power Saving, taking down the resolution to Full HD, which is quite useful to get one or two more hours of functioning. It's a mixed battery overall. Now here we are with the core point of the tablet, the acoustics. This device has SWS 3.0 technology from Huawei, as well as Harman/Kardon tech. Stereo speakers are here, on the top and bottom of the device, or better said on the left and right when held in landscape.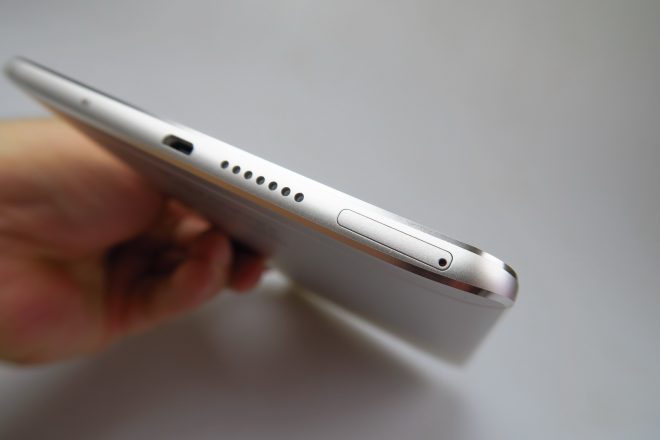 There's a Smart PA system here, HiFi acoustics (digital to analog converter included) and the AKG H300 earphones bundled with the higher end version is well worth the price of admission. The music player on board is able to handle MP3 files, FLAC and WAV ones and it's very simple in UI, but sadly has no EQ. The actual listening experience brought on a HUGE volume, perfect bass and this model felt miles ahead of the competition. Voice was perfect and the keys as well. There's no distortion either.
It's the best device, acoustics-wise I've seen for quite a long time. We did a decibelmeter test and achieved 87.1 dBA with our usual test sound and a huge 104.4 dBA with games, music and videos. This is the best result in all my history of testing phones and tablets. By comparison the Nokia N1 gets to 89.8 dBA and the iPad Air 2 goes to 86.3 dBA.
Settings include just SWS and I'd say this tablet is a genuine party starter. Now let's discuss the cameras, a bit more complex than your average slate shooter. At the back there's an 8 MP cam with autofocus, while at the front there's an 8 MP sensor with fixed focus. There's no flash here, of course. The camera app starts pretty fast, zoom is fluid and picture taking is pretty fast.
Focus speed also had me content. The modes and options are quite generous for a tablet, including Effects, Beauty, Beauty Video, Time Lapse, Panorama, Audio Note, Pro Photo, Pro Video, Night Shot, Light Painting, Watermark, HDR, Good Food, Document Scan and All Focus. The Pro mode tweaks white balance, focus, exposure, ISO, shutter and metering. Settings also let you mess about with localization with GPS, grid, resolution, timer, audio control and touch to capture. Object tracking is also here.
Image adjustment lets you modify saturation, contrast and brightness and then there's Perfect Selfie, digital stabilization and Full HD video. The gallery of shots taken with the slate was done on a day that mixed the clouds and the sun, in late October. Clarity is rather good, but details in the distance are a bit on the weak side.
Closeups are solid, some colors are oversaturated and sky is strangely rendered. The HDR is good and in the end the colors were OK calibrated, in spite of the shots that were a bit messed up, especially with the yellow hues. The pics had great clarity and quality for a tablet and selfies were excellent as well, in both texture and clarity.
We did lose details when zooming in with the main camera and overall, I'd say that this camera array beats the iPads and Xiaomi models. The main 8 MP shooter can also fight 99% of the 8 MP camera phones. Videos are shot in Full HD, MP4 format, at 30 FPS and 17 Mbps. Sadly, the clips look more like 720p or 480p, than Full HD.
The microphone handles sound capture quite well, even for music. Exposure is strange and quality drops dramatically when zooming in. The results are burnt and unimpressive, clearly below the iPad's quality with about 40%. Now that the camera is done, let's talk about other aspects. We've got Chrome as the preinstalled browser, that's fast and has good benchmarks.
The virtual keyboard's keys are a bit too big, but reasonably comfy, by the way. Now as far as connectivity goes, I was surprised to see there's no USB Type C Port here. We did have 4G LTE support on our unit, GPS and Glonass, WiFi a/b/g/n/ac, Bluetooth 4.1 and microUSB 2.0. There's also WiFi+ in the options, to connect to a familiar router.
We can also take and make calls on our test device, with the quality being just OK, signal being good and clarity also solid. There's also Speed Dial and virtual HD call ability. The SpeedTest result were very solid, with 132 Mbps in download in 4G and 47 Mbps in upload, while in WiFi we got to 221 Mbps in download and 25 Mbps in upload.
Huawei MediaPad M3 runs Android 6.0 Marshmallow with EMUI 4.1 on top, that places all the apps on the homescreen and delivers a flat UI. Multitasking is done via a horizontally scrolling list of thumbnails, swiped up to close them. Swipe down on the homescreen to search for apps and the dropdown bit includes notifications shown as a timeline and Quick Settings to the side of it.
Keep the homescreen pressed and you'll trigger the wallpaper area, widgets, transitions, layout, icon alignment and so forth. The UI has a dock area at the bottom and I frankly loved the landscape version of the keyboard, that was excellently spaced. Settings include custom options for the virtual buttons and navigation key, with is the touch Home button with fingerprint scanner and gesture navigation.
One touch means Back, a touch and hold means Home and a swipe to the side goes to multitasking. Fingerprint unlocking is done pretty fast and accurately, but the feedback isn't properly felt when touching the sensor. The setup of the print was also rather long. The list of Settings includes Do Not Disturb and Gloves Mode, too.
The preinstalled apps list includes 35 names and is rather OK, since I've seen even 40 or 50 apps on other devices. There are many stock apps that can't be uninstalled. The apps include Themes, Tablet Manager, Files, WPS Office and HiCare. Time for the verdict now!
Here are the Pros:
best audio ever
elegant design
fast fingerprint scanner
good cameras for a tablet
solid performance
nice selfies
good connectivity
And the Cons:
cutting edges
could be brighter
view angles are modest
battery should be a bit more generous
no USB type C port
Huawei MediaPad M3 is an elegant music and gaming tablet, with a good set of cameras and a genuine party starter. It's pretty looking, not so comfy and it's clearly a boon for audiophiles. The MediaPad M4 does have a few things to work on, like the battery and the screen brightness and view angles. It's certainly a media tablet to remember and praise.  You can find it here.