After Android 4.4.4 KitKat has been made available for a lot of devices, including Nexus ones, Google failed to offer this update for one of the Nexus tablet from its portofolio, more precisely to the Nexus 7 (2013), the version with 4G LTE connectivity. Today, Google announced that the Android 4.4.4 KitKat factory images are now available for Nexus 7 LTE too.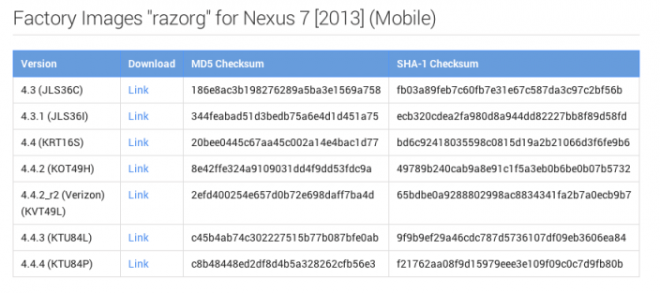 As you can see above, we can download the factory images from Google, a Verizon one being available too. Among the specs of the Nexus 7 LTE tablet we have a Full HD IPS LCD display, a quad-core Qualcomm Snapdragon S4 Pro processor clocked at 1.5 GHz, 2 GB of RAM memory and 16 or 32 GB space of storage.
Other specs include stereo speakers, an Adreno 302 GPU, a 5-megapixel main camera on the back, a 1.2-megapixel front-facing camera and a 3.950 mAh battery. As you may know, the next big thing from Google will be a Nexus 9 tablet that may be developed in partnership with HTC.