There are 3 brands we test quite a lot here at Tablet News: Evolio, E-Boda and Allview. They are from Eastern Europe, Romania and the companies behind them rebrand Chinese devices. One of them is the Evolio Evotab HD, that we tested a few months ago. The device has a pretty nice box, that's what you notice from the start and it's priced at a reasonable $140.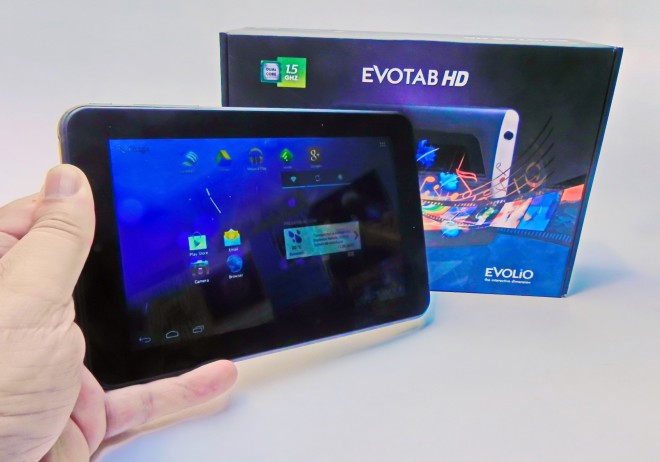 This is a dual core 7 inch slate, one that has a soft touch back and reminds me of a Huawei MediaPad model. The device offers a nice grip and measures 9.3 mm in thickness and weighs 330 grams. Its corners are rounded and the product is made of plastic, while the back of the gadget feels like rubber. It's easy to hold the slate with a single hand and handle it and the buttons are slightly rigid, but that's not bothersome.
Overall the design is nice and moving on to the hardware, we find a dual core Cortex A9 1.5 GHz CPU, an Amlogic 8726MHX chipset. There's a Mali 400MP GPU on board, a TFT 7 inch 1024 x 600 pixel display included and support for 3G via modem. Other specs include 1 GB of DDR3 RAM, Android 4.1 as the OS and 8 GB of flash storage.
We've got a 2 megapixel back camera, a 0.3 MP front snapper and a 0.5 W speaker at the back. Finally, Evolio Evotab HD packs a mini HDMI port, a microSD card slot, WiFi and there's no GPS or Bluetooth, in case you're wondering. On the battery area, we've got a 3600 mAh battery, that provides 3 hours of gaming and about 4 hours of regular use. I must mention that the gadget gets hot pretty bad in the left side when you're gaming. It takes pretty long to charge it, about 3 hours and a half.
On the multimedia side, we've got good audio, that means there's good volume, good high notes, good bass and the ability to use bundled headphones with the device. There's no distorsion here and I like the clarity of the 0.5 W speaker. Moving further to the screen, this a device with weak view angles, especially on the vertical. This is a capacitive multitouch screen, that's a bit glossy and suffers from glare. The brightness is OK, but could be better. Colors are vivid and the screen offers decent feedback when using it.
The camera only has fixed focus and basically you can ignore it, since it takes noisy pics. The device runs Android 4.1.1 Jelly Bean and comes with Play Store, a so so browser when it comes to speed and a comfy keyboard. Preinstalled apps here include Evobook for ereading and such and Kingsoft Office for productivity. There's App Installer also installed and an online press app.
In the benchmark area, I compared the Evotab HD to the Allview Speed City slate and the E-Boda X80. In Quadrant we scored 3943 points, getting beaten by both Allview and E-Boda by 100 and 800 points respectively. In AnTuTu we scored 9851 points, getting surpassed yet again by 1000 and 2000 points. In NenaMark 2 we achieved 44.7 FPS, close to the 46 FPS of the Allview Speed City and the 49.1 FPS of the E-Boda X80. In Vellamo we scored 1117 points, while in 3DMark we scored 2070 points and in BrowserMark 2.0 we achieved 1436 points, surpassing the other rivals.
We also tested the game Dead Trigger on the device and for a $140 slate it worked perfectly. Too bad for that overheating problems when gaming, that may sometimes cause the device to reset. The good thing here is that there's no lag to face. And now for the Pros and Cons.
Here are the Pros:
good price
no lag
good audio
soft touch back
runs games with 3D graphics
pleasant design
bundled headphones
And the Cons:
overheating
weak battery
view angles
no GPS
no 3G
no Bluetooth
low benchmark
The Evolio Evotab HD scores 9.2 out of 10 for design, 7.5 out of 10 for hardware and 8.5 out of 10 for OS and UI. The final grade here is  8.4 out of 10, which is pretty decent for a price below $150. If you're on a budget this slate is worth it maybe, especially since I have a feeling you can find it for even less than the price above.