If you're looking for a tablet to surprise you pleasantly, look no further than the ASUS MeMo Pad HD 7. We already reviewed the big ASUS MeMo Pad FHD 10 here and gave you a glimpse of this tablet's camera here and its gaming abilities here. It's now time for the full review, so here we go!
The device goes for a mere $149 in the 16 GB version, or even $129 in the 8 GB version. At some point, Amazon offered it for $99 with a special offer a few weeks ago. This is a 7 inch quad core slate that was announced at Computex in early June and it's a big upgrade compared to the previous MeMo Pad 7 incher. As far as design goes, this device measures 10.8 mm in thickness, weighs 302 grams and comes in a variety of color options.
Those include blue, white, pink, green and gray. An unusual design trait is the placement of the USB port at the top instead of the bottom. Next to the microUSB port there's an audio jack and between them there's a microphone. On the side of the device we've got a Power button and volume buttons and at the back of the slate we can find a special area with stereo speakers.
The plasticky case offers a decent grip, but it's glossy and it's a fingerprint and grease magnet. The tablet has a solid build in spite of being made of plastic. It's also easy to hold with one hand, as shown in the video review. On the hardware front we find a quad core Mediatek MT8125 processor at 1.2 GHz, a Cortex A7, as well as a PowerVR SGX544 GPU. Other features include 1 GB of DDR3 RAM, 16 GB of storage, a microSD card slot, WiFi, Bluetooth 4.0 and a 7 inch 1280 x 800 pixel IPS screen with 10 finger multitouch.
At the back we've got a 5 megapixel camera and at the front there's a 1.2 MP shooter. Other specs include GPS, e compass, a G Sensor and a 3950 mAh Li-Polymer battery. Said battery provides 10 hours of use on paper and in real life you'll get about one or two days of regular use. The battery will charge from 0 to 100% in about 3 hours and a half. You can also trigger a power saving mode, that will deactivate connections in standby mode for extra battery life.
As far as the audio is concerned, we've got excellent bass and high notes and no distorsion at all. The tablet has an impressive volume, even louder than the iPad Mini. ASUS MeMo Pad HD 7 offers stereo speakers, Sonic Master technology and Audio Wizard software for tuning the experience. Bang & Olufsen contributed to the acoustics here, so that's why they're so great. Overall the audio is excellent and moving on to video, the 7 inch IPS screen supports a 1280 x 800 pixel resolution and offers 170 degree view angles.
The slate can play Full HD MP4 videos with natural colors and good brightness. There's no auto brightness and thanks to ASUS Splendid you can customize your viewing experience by tweaking color temperature, brightness, hue and saturation. The screen offers a brightness of 330 lux units and the pixels are of the RGB Stripe kind. There's a slight light bleed on the side of the device and the text may be hard to read in direct sunlight.
As far as the camera goes, we were actually surprised by this aspect of the tablet. There are very many options to choose from in the camera UI, including white balance, effects, ISO and much more. The 5 MP camera does autofocus, Full HD video capture at 25 FPS and the quality of the video is shown below, being very impressive.
The pics don't look that bad either and there's a gallery here. The only bad thing about the camera is that it's very easy to have your finger slip in front of the cam and the menu tends to disappear when the camera focuses. Overall, this camera is 99% better than every other cameras priced at less than $200. Moving further to the software, the device runs Android 4.2.1 and there's a special ASUS customized area in the Settings department. In the benchmark section, we compared this model with the Nexus 7 and Acer Iconia 1, with the latter packing the same Mediatek CPU as this ASUS MeMo Pad HD 7 slate.
The MeMo Pad HD 7 hits 3925 points in Quadrant, surpassing the Acer Iconia A1 and its 3900 points and also the Nexus 7, with 3700 points. In AnTuTu we scored 12.472 points, beating the Acer model by 72 points and being close to the Nexus 7's 12.700 points. In NenaMark we scored 46 FPS, below the other two with 51 FPS and 55 FPS respectively. Our ASUS tablet's score was 1476 points in Vellamo, more than the 1300 points of the Acer unit. In 3DMark we were close to the Acer unit with 3162 compared to the 3140 of the Acer.
The browser is reasonably fast and the keyboard is comfy to use, especially thanks to the extra numeric row included above the keyboard. We've got a tiny dock in the box with the slate and back to software, ASUS also brought the Floating Apps mechanism here. This allows you to rely on mini versions of applications floating on the screen at the same time and they can be used at the same time with ease.
We used a thermometer to test the maximum temperature of the device, which is 36.3 degrees Celsius. It was achieved after a session of Full HD streaming on WiFi. There's no USB OTG support here in case you're wondering and an interesting fact to mention is the presence of a pinch gesture that triggers specialized homescreens for varied activities. Those include entertainment homescreens, work and customizable homescreens.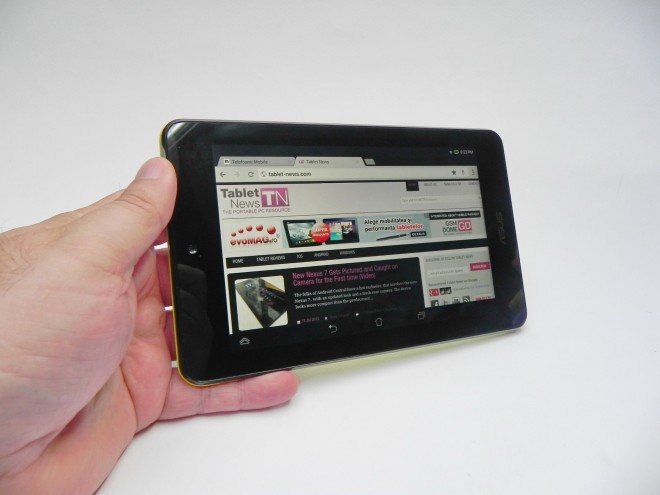 The app list is pretty much the usual one from the other ASUS slates we reviewed recently, including the FonePad and MeMo Pad FHD 10. There's App Backup, App Locker, ASUS Artist, ASUS To Do, ASUS Story, Buddy Buzz for social networking and Supernote Lite for note taking. WebStorage takes care of cloud storage and you can also edit documents on the go in it.
We played Riptide GP2 on this tablet and had no problem with it, in spite of it being a new game on the Play Store. And now for the finalized Pros and Cons of the review…
Here are the Pros:
very good price
good battery
excellent audio
surprisingly good camera
no lag
runs new games
doesn't get hot
good view angles and brightness
And the Cons:
backlight bleed a bit
slight feeling of bloatware with so many apps
thick plastic case
fingerprint and grease magnet
nu auto brightness
camera focus bug
ASUS MeMo Pad HD 7 gets a 8.5 out of 10 for design, a 9.5 out of 10 for hardware and a 9.5 out of 10 for OS and UI. The final grade is 9.16 out of 10 and this is an excellent tablet and a best buy of the summer.
Check the updated price on Amazon!