The leak of the day comes obviously from @evleaks, who has posted a very clear image, showing the name OnePlus Tab. It appears that OnePlus is now preparing a tablet, after selling a very popular smartphone, that has been very sought after.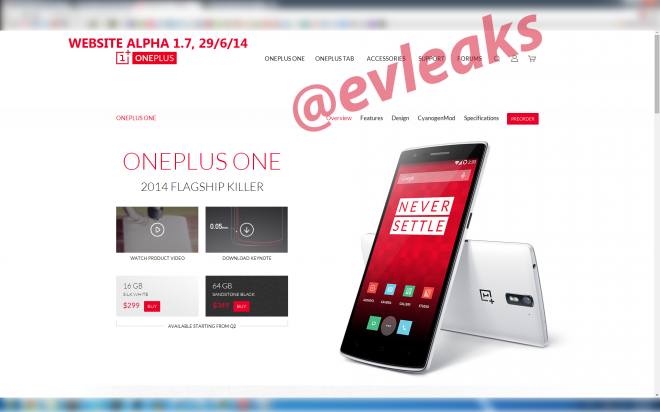 Personally, I see this move as a response to the Xiaomi Mi Pad hit, showing there's room for a device like that. I mean high end and also priced right, obviously. It's hard to speculate on specs, since we only have a name to go on right now, but let's try. So, considering that companies like Xiaomi and OnePlus know what the public want, they are certainly operating in the 7/8 inch tablet area.
I'm expecting the OnePlus Tab to be a 7.9 inch slate or maybe a 7 incher with a Retina level resolution and a very powerful CPU. Alternatives include the Nvidia Tegra K1 and Snapdragon 805, obviously. KitKat should be the OS, or even Android L, if the device launch is late enough. A solid 8 MP camera, 16 GB of storage and 2 GB of RAM should make the package complete. What are your expectations for this model?
[UPDATE] – @evleaks: "OnePlus (official): "No tablet coming out – photo was photoshopped." Will update with more info if/when available."