After seeing what seems to be a launch date for the new iPads, now we have some extra intel about the slates. It would appear that a Spanish accessory distributor leaked out info about a case for a 10.5 inch iPad.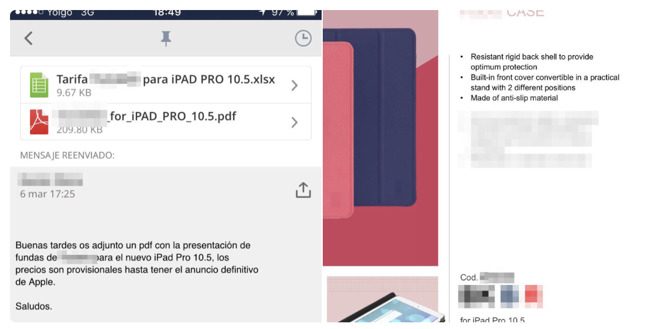 The info is edited quite a bit, so it won't reveal too much about the accessory or the device. The document titles put the 10.5 inch size within the iPad Pro lineup. We don't have actual case sizes and everything seems to be in pending phase here. We haven't seen many iPad leaks lately, other than speculations about the use of OLED panels, diagonals and CPUs from the Axx series.
Apple is said to unveil a second gen 12.9 inch iPad Pro, an affordable 9.7 incher for education and a refreshed 7.9 inch iPad Mini. They'll debut with the brand new format of a 10.5 incher, that should replace the 9.7 inch iPad Pro in the lineup. What's clear is that at least a new 12.9 inch iPad is needed, as it hasn't been refreshed since September 2015.