If you're looking for a decent tablet under $200, the answer comes from Romanian company Evolio and their Evotab 2 slate. This slate goes for around $162 and it involves a plasticky white case, that creeks  bit and has a cheap feeling, but for this amount of money, what do you expect?
There's no back camera, in case you're wondering and on the front side there's a tiny Home button, that makes it look like an e-reader rather than a full fledged slate. Evotab 2 also lacks volume buttons, at least physical ones, as it relies on virtual ones shown on the screen. The device has on its sides some physical buttons: Menu, Back and On/OFF, that are very noisy when pressed, since they're all plastic. The Evotab 2 is a 7 inch tablet with 16 million color screen and supporting a 800 x 480 pixel resolution.
It comes with 8GB of storage, 512MB of RAM and a Cortex A8 1 GHz processor. The good thing here is that the device comes with a full USB port, plus a mini USB, audio jack and microSD card slot. WiFi is available on the device from the start and 3G is also available via special dongle attached to the USB port. Inside the slate there's a 4500 mAh battery, good enough for 6-7 hours of usage and I must mention that the device charges very slowly and it even took me 3 hours in one session to get it juiced up.
As far as software goes, the slate runs Android 2.3 Gingerbread with a Honeycomb skin on top. The skin involves the Honeycomb-style icons in the navigation area, plus that typical settings area in the lower right area of the screen. There's also the upper right apps and widgets section, like on Android 3.x. Well, at least the UI is fluid and we didn't have any problems with browsing menus and doing normal activities on the slate. A task killer is still a must if you want to stay away from trouble.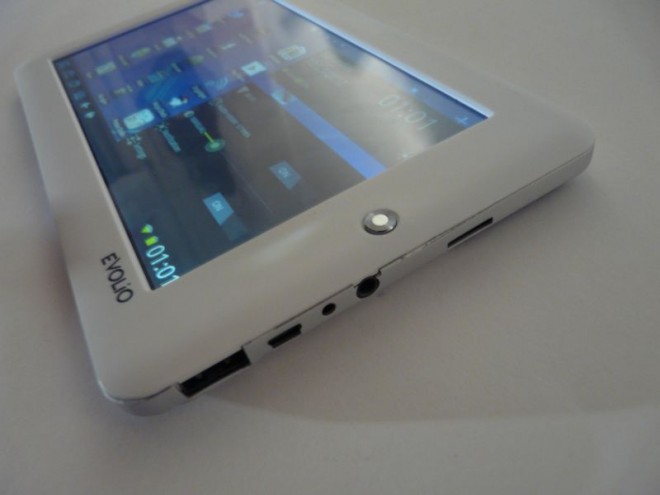 Another good thing is that we have Android Market on this model, that sometimes lacks from lower end cheap tablets. If you want to know about video/audio, know that you can watch a full HD movie from a USB stick without hassle, so that's a bonus. The virtual keyboard is comfy, although it tends to take up too much screen estate. The full suite of apps is available here, including Calendar, Gmail, YouTube, Google Maps, all of them working fine. There's also a keyboard-case for this tablet, that's sold separately and makes it into some sort of a netbook and it's selling quite cheap.
So, if you want a sub $200 tablet, I recommend this model, that aside from the design and materials quality doesn't have that many flaws. Watch the full review below for more info: