Many companies have started unveiling their products early, ahead of CES 2019. LG is one of them, Samsung and Archos too, but ASUS is also bringing forth new tablets and laptops. They've just come up with their very first Chrome OS tablet and also 3 new Chromebooks.
The products are part of the Education series, that now includes the very first Chrome OS based tablet from ASUS, as well as two clamshell laptops and a 14 inch Chromebook Flip convertible. Sadly we have no prices for the newcomers, but we do know that they'll be available soon. The full configurations, pricing and availability will be unveiled later.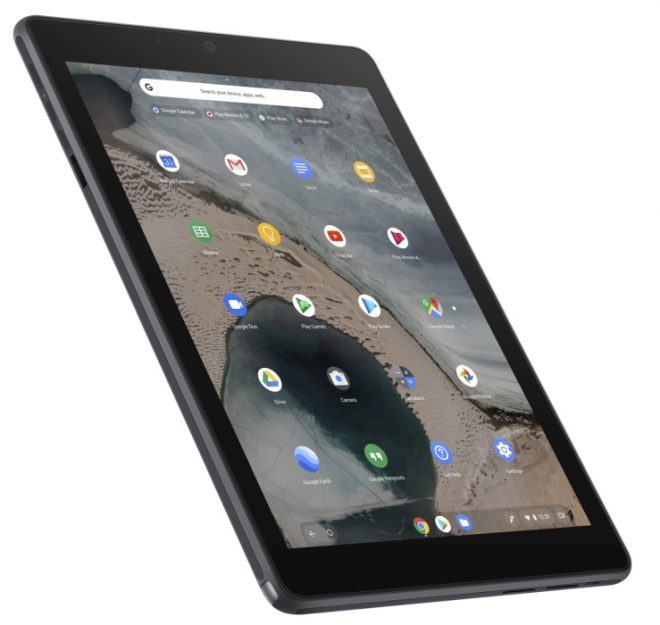 What we do know is that the ASUS Chromebook Education series gets the new model Chromebook C204, the Chromebook C403 and Chromebook Flip C214 convertible. There's also the Chromebook Tablet CT100, which sounds like a counter intuitive name. These products have increased durability, spill resilient keyboards and rubber bumpers for pupils.
ASUS Chromebook Tablet CT100
ASUS Chromebook Tablet CT100 packs a 9.7 inch display and uses a hexa core OP1 (Rockchip RK3399) processor. Also on board are 4 GB of RAM and 32 GB of storage, as well as a 35 Whr Li-Po battery, promoted as good enough for a full day of school use. The charging port is an USB Type-C one and the device can survive drops from up to 3 feet. There's Mali T864 graphics here, a 5 MP back camera and a 2 MP front shooter.
Bluetooth 4.1, WiFi ac and a microSD card slot all make the cut, inside a 1.3 pound product. Expect to learn the price at CES 2019 and for it to be low.
ASUS Chromebook C204
ASUS Chromebook C204 is a clamshell laptop with a 11.6 inch HD display, Intel Celeron N4000 CPU and 4 GB of RAM. It has two USB Type-C ports and a regular USB Type-A 3.1 port too. It provides Wacom EMR pen support, a 720p front camera and 3 USB ports, two Type-C, two Type-A. It weighs 2.6 pounds and has a 50 Wh battery.
ASUS Chromebook C214
ASUS Chromebook C214 is more of a rotating convertible, with a 11.6 inch screen, that offers a 1366 x 768 pixel resolution. There's a 360 degree hinge here, Wacom EMR pen support and Intel Celeron N4000 or N4100 options. RAM goes up to 8 GB and storage up to 64 GB of the eMMC 5.1 variety. There's a 5 or 8 MP back camera and front 720p shooter. MicroSD, USB Type-C ports (two of them) and a 45 Wh battery are here.
ASUS C403 Chromebook
The biggest of the bunch is the new ASUS C403 Chromebook, with a 14 inch 1366 x 768 pixel display, EMR Wacom pen support and Intel Celeron N3350 CPU. There's 4 GB of RAM inside, 32 GB of storage, a HD webcam and microSD. Once again a 45 Wh battery appears and two USB Type-C ports and two USB Type-A too. All of them within a 3.7 pound package