We've had our share of ASUS Transformer Pad tablet reviews since this website has launched and I wouldn't be mistaking if I said we tested all of them. Now the latest model in the series, ASUS Transformer Pad TF701T has reached us and we reviewed it in detail, as shown below.
The product was showcased at IFA 2013 early last month and this is the first Tegra 4 slate we've ever reviewed. The product costs $399 in the tablet version and $499 with the dock included. The design is pretty much the classic Transformer Pad recipe, with a metal chassis and a concentric circle pattern at the back.
We've got a plastic area at the upper back of the slate and a single speaker at the back, much like the Transformer Pad Infinity. At the bottom we find the proprietary ASUS port for USB connection and the two ports for the dock latches. On the sides there are the volume buttons, microSD card slot, micro HDMI and audio jack, plus a microphone.
This is an elegant slate, but one that has big bezels for 2013's standards. The product is reasonably thick at 8.9 mm and it weighs 585 grams. The dock measures 7 mm in thickness, weighs 570 grams and overall the product is comfy and the latch mechanism is solid. Overall, this design is every bit as filled with quality as expected from an ASUS product, although it's pretty predictable.
On the hardware side, we've got a Super IPS+ LCD 10.1 inch screen with a 2560 x 1600 pixel resolution, 299 ppi pixel density and 10 finger multitouch input. Gorilla Glass 2 is also available and inside the slate we find a quad core Nvidia Tegra 4 1.9 GHz CPU, a Cortex A15 with a 72 core ULP GeForce GPU. At the back there's a 5 MP camera without a flash, while upfront there's a 1.2 MP shooter.
Other specs include an accelerometer, gyroscope, compass, GPS, micro HDMI and 2 GB of RAM. The product offers 32 or 64 GB of storage, WiFi, Bluetooth 3.0, Miracast, speakers with Sonic Master technology, while the dock packs a USB 3.0 port and an SD card slot. Finally, we end the specs list with a G Sensor and an ambient light sensor. ASUS Transformer Pad TF701T integrates a 31 Wh Li-Polymer battery, while the dock packs a 16 Wh battery of the same kind.
On paper the slate is supposed to offer 13 hours of functioning time, while the dock is supposed to offer 4 hours. In our tests, that involved the HD playback of a full Sopranos season, with WiFi on and 50% brightness we achieved 11 hours and a half of playback. This applies to the dock and tablet together. The tablet by itself achieves around 9 hours and the battery charges in about 3 hours. The battery life hasn't increased compared to the Infinity, instead it's at least one hour shorter.
On the audio side, we've got the usual SonicMaster tech, a loud and crisp acoustic and Audio Wizard to tune the experience and make the sound warmer or more suited for a video viewing experience or maybe gaming. The slate is loud, but not as loud as the Nexus 10 for example. The bass is good and so are the high notes, but I sure wish the volume was just a tiny bit bigger. Transformer Pad TF701T packs a Super IPS+ LCD 10.1 inch screen with LED backlight and a resolution of 2560 x 1600 pixels.
The screen is bright, crisp, offers great view angles and vivid colors. There's no oversaturation and we've got great contrast here. Under the microscope we spotted an RGB stripe pixel arrangement and as far as the brightness is concerned, we achieved 392 lux units with the Outdoor mode activated and 232 lux without it, on white. On black we achieved 1 lux unit, which is quite OK, but I have to say that I expected just a bit more from the company that gave us the brilliant screen of Nexus 7 2013 with huge brightness.
There's also a special Reading Mode included in the settings area, that changes the way you view pages when e-reading and browsing the web. There's also the app ASUS Splendid, that allows you to customize the saturation, hue and other aspects of the screen viewing. Overall, this is a nice display and like the amount of customization it comes with.
The camera is a 5 MP unit, that's a lower res cam compared to the previous Transformer Pads, but it compensates with an impressive number of options. Those include panorama, HDR, a beautify mode, slow motion and some other special capture settings. We've got a brand new UI, some effects include and settings like ISO, white balance, exposure and more.
You can take 5 MP shots in 4:3 or 4 MP shots in 16:9. There's burst shot capture and some strong picture editing available by default. However, the pics tend to be pretty noisy, at least indoors, but at least the level of details is reasonable. On the benchmark side, I decided to compare this Tegra 4 slate with the most powerful Android tablet of the moment, Galaxy Note 10.1 2014 and the predecessor of this model, ASUS Infinity Pad 700. In Quadrant we scored 12k points with the TF701T, while the Infinity scored 4600 and the new Galaxy Note 10.1 reached 19k points. In AnTuTu we stood up to the competition with 26k points, versus the Samsung's 32k points. In NenaMark 2 we had 56.6 FPS, compared to the 34.6 FPS of the Infinity Pad.
Finally in Vellamo we even beat the new Galaxy Note 10.1 with 3118 points versus 2721. In 3DMark we achieved 11115 points, almost tripling the score of the Infinity Pad, while BrowserMark 2.0 brought us a score of 2963. TF701T offers a fast web browser and has the advantage of a crisp screen, that doesn't require you to zoom in in order to read text.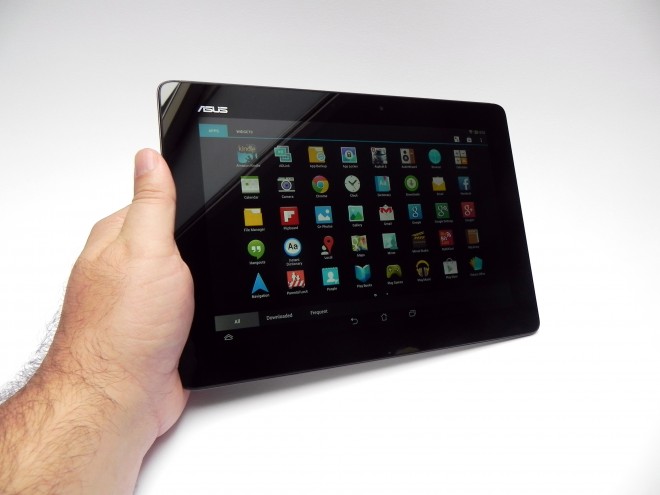 The device reached a temperature of 40.8 degrees Celsius after 30 minutes of playing Asphalt 8, but that temperature was only reached in the upper right back area, a place where you are not very likely to place your hand when gaming. The total back area reaches around 33 degrees Celsius, which is OK.
As you probably noticed, ASUS implemented new icons here and some UI changes, making Android look flatter and more modern. The slate runs Android 4.2.2 and comes with the usual selection of apps, including Kindle, App Backup, App Locker, Dictionary, Flipboard and Instant Dictionary. All of these are already known from previous ASUS devices we've tested.
We also get a parental lock, My Dictionary, Google Maps, the Play Suite, Polaris Office and Super Note. Tegra Zone is also here, as well as cloud storage via ASUS WebStorage. In the multitasking department we get the contribution of the floating apps, that can be overlapped and used at the same time. As far as the dock goes, it's pretty much the same comfy unit as the predecessors, with nice touchpad and keys with good feedback.
And now for the Pros and Cons related to this device.
Here are the Pros:
elegant design
powerful CPU and GPU for gamers
Supernote, Polaris and the dock ensure pretty good productivity
good speaker
great screen, especially resolution wise
lots of camera options
lots of useful apps bundled
fluid UI and new icons
And the Cons:
the battery and camera are weaker than the Infinity Pad's units
brightness a bit lower than it could have been (compared to Nexus 7 2013)
same design as previous models
could be louder
typical Android lag

We give this device an 8.5 out of 10 for design, 8.3 out of 10 for hardware and 9.4 out of 10 for OS and UI. The final grade is 8.73 out of 10 and while this is a powerful tablet with an impressive resolution, there's too much of the older ASUS slates present here to justify a purchase, especially if you already own a similar device.