Here at Tablet-news.com we also review phablets, such as the Allview X1 Xtreme, which is a rebranded version of the Gionee Elife E7 from China. The X1 Xtreme was launched in February and it's a flagship of the company Allview, priced at $620. This 5.5 inch phablet is the highest spec Romanian brand phone right now and it's interesting in that regard, since I've tested a ton of East European gadgets.
The design features a 9.7 mm waistline and a weight of 150.5 grams, so it's not very heavy, considering the size and diagonal. The body is rectangular and features an upper and lower side that are rounded. The straight edges are uncomfortable for the palm of your hand, much like in the case of an Xperia. Allview X1 Xtreme's camera is also slightly protruding out of the back side.
The screen has very slim bezels and the physical keys offer good feedback. This smartphone is very glossy and slippery, as shown in the video below. Upfront we've got the display, front camera, capacitive buttons, notification LED and earpiece, while at the top there's the audio jack and On/Off button. On the left side there's the microSIM card slot, while on the right side there are the volume buttons. At the bottom we can find the microUSB port, a mic and two well hidden speakers.
Finally, at the back there's the main camera, with a huge lens, plus a microphone and flash. Overall, if you get past the edges and the gloss, this is basically a bigger Xperia of sorts. It all depends on the user's preferences in the end. This is an unibody case device, with a magnesium internal chassis and I should mention that the screen is almost an edge to edge one, with a 2.4 mm thick bezel.
77.5% of the front side of the phone is all display. Moving on to the hardware, the Allview X1 Xtreme features an IPS LCD panel with JDI and OGS tech, a 5.5 inch diagonal and Full HD resolution. There's LTPS tech and Gorilla Glass tech as well. Inside it there's a quad core Snapdragon 800 2.5 GHz processor with Krait 400 cores, an Adreno 330 GPU at 450 MHz, 3 GB of LPDDR3 RAM, 32 GB of storage and a 16 megapixel back camera.
The specs list of the handset includes a front 8 MP camera and on the connectivity side there's WiFi, Bluetooth 4.0, NFC, HSDPA, microUSB 2.0 and GPS. DTS audio technology, a Yamaha amplifier, noise canceling, an accelerometer, gyroscope, compass and FM radio are all on the same hardware list. The battery is a Li-Po 2500 mAh unit, that on paper provides 250 hours of standby functioning or 500 minutes of talk time. In our test, the device achieved 8 hours and 21 minutes with WiFi on and 50% brightness. The charging time is 2 hours and 46 minutes.
Frankly, I was expecting a much bigger battery capacity than this one and more battery life. I did still get a day and a half of moderate use. There's also a power management app in the mix and the Power save feature will keep the connectivity off when the screen is off. There's also Night power saving and an estimation for the charging time or the use of the device. Power saving options also include limiting the CPU power, by the way and there's also a cute widget associated.
This is an SDI battery, so it has a capacity with up to 30% higher than usual batteries, which I didn't exactly feel. Moving on to the acoustics, the Yamaha amplifier and DTS tech obviously offer a ton of goodies for audiophiles. The music player offers a simple UI and the speakers at the bottom are loud, at a level suited for a 2014 flagship. The bass is good, clarity is good and we've got DTS effects, which are pretty much an evolved equalizer.
There's Space reverb, clarity, focus, bass boost, 3D effect and volume strengthen. The headphones bundled here are comfy, loud, but not too loud, their bass is good and the voice is warm. There's also a radio app, with recording, a nice UI and a bunch of useful features. Overall, the audio is on a top level, comparable to other flagships. As far as the video goes, we've got a JDI screen here, so it uses Japan Display Inc technology from Sony, Hitachi and Toshiba. This display uses full lamination technology, for reduced consumption, improved clarity and LTPS, which is low temperature poly silicon, for faster response time and lower power usage.
There's also a concept called Content Adaptive Brightness, that adjusts the background light and reduces it depending on the image shown. This 5.5 inch IPS LCD display has a very small bezel and offers wide view angles, good brightness and oversaturated colors, that can be tweaked with a special option in the settings area. The screen is bad in sunlight and once I tried to use the camera UI on a sunny day, I couldn't understand anything from it.
The lux level here is 337 units, which is reasonable for day to day use, but far from the 400+ levels of the Galaxy S5 and HTC One M8. The pixels are of the RGB Stripe kind and the screen is slightly white-ish with maximum brightness, so it tends to hurt your eyes after a long period of usage. The black is reasonably deep and the screen is overall good, but not fantastic. As far as the camera goes, this was a very pleasant surprise, a 16 megapixel Omnivision OV16825 with a 1.21 cm sensor size and 8 lenses with UV filter and antireflection. The pixels measure 1.34 microns, while the Galaxy S5 offers 1.12 microns, so the Allview is better.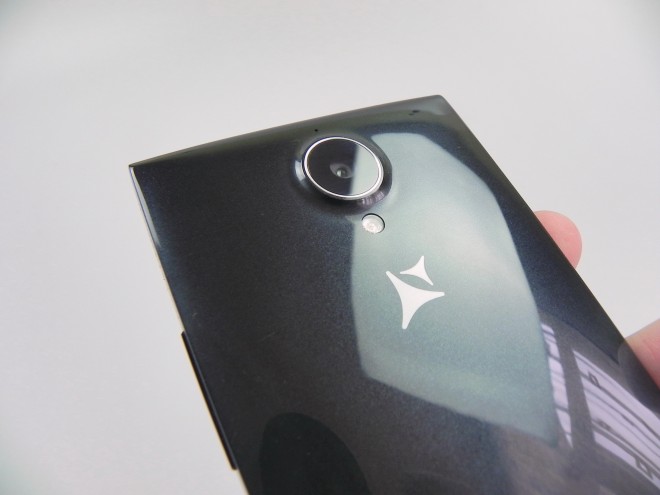 The LED is supposedly 60% brighter than other flashes and the UI features the typical setup for an Allview phone with the front cam and flash options on the left side, plus two modes of option use: Normal and Professional. The first one displays the options in a list and the second one offers a more unique styling and more options. The camera does 6X zoom and the Normal Mode brings HDR, Auto Scene, Sound, Geotagging, Capture Mode (V sign, smile shutter, touch and normal). There's also a self timer and picture size.
The Professional Mode offers options like geotagging, sound, face detection, level meter, auto scene, size, white balance, exposure, ISO up to 1600, panorama, sports, HDR and night capture. The Sports option takes 99 pics in 21 seconds and the video options include geotagging, anti shake, microphone and Full HD or HD options, or even lower resolutions. The video capture also has options like white balance, exposure, time and more.
Pics offer a good level of detail and I even played with the Charmcam application, that is rather tailored for selfies, with options like face beauty, with 12 options (slim face, big eyes etc) and Make Up, that allows you to add make up, lipstick, blush or long lashes. There's a Best Face option as well, an Eraser that deletes moving objects from the frame, Filters (Vignette, Emboss, Grayscale, Lomo, Sepia), as well as Stamps (funny frames). One of the most interesting options here is PPT, that allows you to take pictures of presentations, books, pages and powerpoint presentations, even from the side.
Tracks is the final CharmCam option, capturing moving objects. Now back to the basic picture taking, the daylight shots are very, very good, very bright and have great quality. HDR is good, maybe a bit too bright and the colors are vivid, but not oversaturated. The level of detail is excellent and the pictures are crisp. Panorama is good and looks nice and so does the macro shot. The indoor shots are not that good and neither are the nocturnal ones, with the lights being too blurred. This camera can easily go head to head with the HTC One M8 and Galaxy S5, as far as day capture is concerned. A whole gallery of pics is here.
Videos are crisp and clear, colors are good and white balance is also reasonable when capturing videos. Stabilization is weak, focus is lost sometimes and the zoom makes the cam lose details quickly. BSI is available here and from what I've read online, the camera could do 4K video capture, but it can't in this case. Also, the front 8 MP camera is excellent, maybe the best selfie option nowadays. It does full HD videos and takes very crisp pictures. It even beats the front camera of the HTC One M8, that was also good for selfies.
Overall, the daylight shots make this a fantastic camera and the filming is reasonably good, but the low light and night capture are quite poor. This was one of the best cameras I've tested on an Android device lately. You can edit pics on this handset with a ton of filters, frames, contrast options, shadows, hue and saturation. The device reaches a temperature of 41.8 degrees Celsius, which means it suffers from overheating, as confirmed by a session of Riptide GP2.
If you want to know about performance, we have some benchmarks for you. I decided to compare the Allview X1 Xtreme with LG G2 and Galaxy Note 3, since the latter also has 3 GB of RAM. The X1 scored 20542 points in Quadrant, beating the LG G2 with its 17k points and getting beaten by 500 points by the Galaxy Note 3. In AnTuTu we scored 34.269 points, beating the LG G2 again, by about 1000 points and getting beaten by the Note 3 by about 800 points. In NenaMark 2 we got 61.4 FPS, which is above the other two models. Meanwhile, the Vellamo and 3DMark scores (2637 and 17125 respectively) were lower than the LG G2 and Note 3 scores. The Note 3 gets 19k points, while the LG G2 almost has 16k, so it doesn't beat the Allview X1 Xtreme.
I also tested the download speed and upload, reaching 14 Mbps and 22 Mbps respectively, both scores that beat the iPhone 5s (13/18 Mbps). In GeekBench 3 we got 885/2381 points in the single core/multi core test, which was beaten by the iPhone 5s by a few hundred points. In BrowserMark 2.0 we got a reasonable score of 2397 points, below both rivals, while Sunspider gave us 601 points, which is also modest. Allview X1 Xtreme has a reasonably fast browser, a comfy keyboard and HD voice ability, thanks to a triple mic. The OS is Android 4.2.2 with a custom UI, that feels very obsolete and has some useless icons, that don't express what an app is about.
In the settings area we find some nifty extras, like the Open Eyes feature, that keeps the screen on once your eyes are detected. There's also the LCD effect option, that customizes your viewing experience. I also demoed the NFC tags in the video review, a concept that has been around since the time of the Xperia S or so. Basically you touch a tag with the phone and instantly enter a special mode, like the night mode, work mode or car mode, with various brightness, connectivity and volume settings.
We've got a Guest Mode on this device, a Suspend button that floats around and offers some shortcuts and Smart Gestures. Those include Smart Dial, Smart Answer, Double tap to Wake and the ability to draw on the locked screen to trigger apps with symbols. Another bunch of useful features are trigged by swiping right in the lockscreen, triggering the camera, audio recording, torch or the fake call. This last feature starts a special fake call that gets you out of nasty conversations or makes you dodge people you don't like.
And now, on to the preinstalled app list. We've got phone accelerate, that clears cache and stops processes, boot optimization included, then Colour, that allows you to change themes, wallpapers and effects, plus weather, that looks very nice, Notes, App Manager, Traffic Assistant (basically like Data Sense on Windows Phone) and BitDefender Mobile Security. Office Suite, a compass and Sygic navigation are the last things to mention here. This nav app is actually quite good and user friendly and even has special settings for GPS satellites.
And now for the Pros and Cons, here's what's nice and nasty about this smartphone.
These are the Pros:
very good camera, a true surprise in daylight
good audio and earbuds
pretty good display
very good front camera and camera features
powerful hardware
DTS plus Yamaha audio
extras like Sygic, gestures and NFC tags are welcome
And the Cons:
poor low light capture
expected more from battery capacity
glossy and slippery
obsolete UI
no KitKat on board
overheating
no LTE
Allview X1 Xtreme gets an 8.7 out of 10 for design, a 9.5 out of 10 for hardware and an 8.5 out of 10 for OS and UI. The final grade is 8.9 out of 10, but we add an extra 0.20 for the excellent day time shots, so the final grade is 9.1 out of 10 for the Gionee Elife E7/Allview X1 Xtreme. This goes to show that it doesn't take a huge brand to make a great smartphone.