HTC One M8 is a handset that was announced less than a month ago and we already had the chance to review it. This model is the followed to the 2013 HTC One and it was announced on March 25th 2014, during a special event in London. The product debuted on 230 carriers, with big hopes thanks to HTC. The price tag of the device is $649.99, as recommended by HTC.
The device comes in 3 versions: Gunmetal Gray, Glacial Silver and Amber Gold. It has a general format that's very much like the HTC One and there are no capacitive buttons this time. We do get virtual ones. HTC One M8 measures 9.3 mm in thickness and weighs 160 grams, so on paper it's on the bulky side of things, but when you hold it in your hand, its weight is actually well distributed.
This product looks gorgeous and has a premium design, plus a back that's more curved than the HTC One. 90% of the chassis is made of aluminum, unlike the 70% of the HTC One. We get a bigger screen this time, so instead of 4.7 inches we get 5 inches this time. We've got an excellent build quality here and a drop test I've seen recently shows that the M8 can withstand a drop from 2 meters without cracking up.
By the way, this product is easy to use with one hand. The area below the display seems useless, if you ask me, but it has the purpose of showing the HTC logo and underneath it is a collection of important components. At the top of the device we find an On/Off button that's more comfortable to use than the one of the HTC One. At the top there's the infrared emitter as well and upfront we've got a 5 MP shooter, ambient light sensor, proximity sensor, the top speaker (earpiece and status LED included) and a bottom speaker as well.
On the left side we find a nano SIM slot, while on the right there's a microSD slot. Both are opened with a special metal key included in the package. Also on the right there are the volume buttons, much easier to use than on the HTC One. At the bottom there's a microUSB 2.0 port with MHL and an audio jack. At the back we've got the dual camera and dual LED flash. There are also lines cut in the metal for the sake of the antennae.
I also dedicated some time to the Dot View case in the video review, one of the niftiest smartphone accessories I've ever seen. This one protects your M8's front and back and even supports swipes and touches to activate the screen through the case. You can see notifications, volume, the weather, time and vocal command, in a pixelated cool form.
This plastic case goes for $49.99 and the see through dots are cool. A double tap on the front of the case will activate the screen by the way. Overall the design of the case and the phone is great and very solid. On the hardware side, we've got a 5 inch Full HD display with Super LCD 3 technology, 441 ppi density and Gorilla Glass 3 protection. Inside the smartphone we've got a quad core Qualcomm Snapdragon 801 2.3 GHz processor, with Krait 400 cores.
The GPU is an Adreno 330 and other specs include BoomSound stereo speakers with amplifiers, 16/32 GB of storage, a microSD card slot with support for up to 128 GB and 2 GB of LPDDR3 RAM. The camera at the back is a dual 4 MP shooter with Ultrapixel technology and dual LED flash. Upfront there's a 5 MP camera and on the connectivity side we've got quad band GSM/GPRS/EDGE, HSPA+ with 42 Mbps download, WiFi Direct, DLNA, LTE, WiFi A/B/G/N/AC and Bluetooth 4.0.
The list also includes NFC, infrared, microUSB 2.0 with MHL, GPS, Glonass and stereo FM radio. There's also an accelerometer, gyroscope, proximity sensor, pedometer, ambient light sensor and active noise canceling. The battery inside is a non removable Li-Po 2600 mAh unit, that on paper offers 496 hours of standby or 20 hours of standby. In our test, we achieved 10 hours and 15 minutes of HD video playback, with WiFi on and brightness at 50%. This is a pretty good duration, but below the 11 hours we achieved with the iPhone 5s. Meanwhile, this battery is better than the one of the LG G2, that offered 9 hours and 15 minutes and also better than the one of the HTC One, that offers 5 hours and 35 minutes.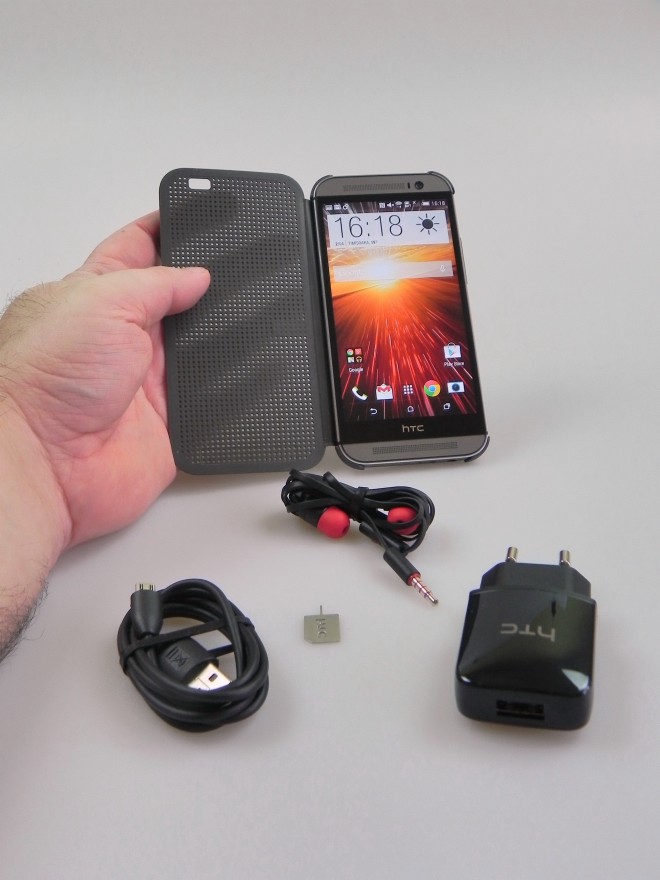 The charging time of the battery is 2 hours and 30 minutes, which is also OK. The battery saving options include Sleep, Fast Boot, regular Power Saving and the brand new mode Extreme Power Save. That will only make available only the essential apps, decrease CPU usage, turn data connection off and more. With this mode on, you can reach 15 hours of functioning time with 5% battery. With 100%, the M8 will work for 2 weeks.
On the audio side, we've got a basic music player, looking pretty minimalistic but without basic options like an equalizer. The visualizer included here does look pretty nice, I have to say. That's only the software, but the hardware is very solid, so the BoomSound speakers offer a huge volume, excellent bass and great clarity. These are the best phone speakers money can buy. This is actually better than HTC One, with a very warm voice and crystal clear sound.
The headphones are comfy, offer good isolation and are generally too loud, so about 70% will be enough to enjoy the listening experience. The bass is very good as well and the sound is clear. We've also got FM radio and this is an excellent experience overall. As far as the video is concerned, we've got a 5 inch Super LCD 3 with 1080p resolution, vivid colors, almost slightly oversaturated. The screen is bright and offers wide view angles, good contrast and black levels that are higher than the HTC One.
Contrast is about 1300:1 and the display behaves well in sunlight. The pixels here are of the RGB Stripe kind and the Lux level is 463, as tested with our luxmeter. That's on white obviously and this is 15 lux brighter than the HTC One. You can actually notice this display brightness boost if you put both phones side by side. Overall, this is a very good screen, but slightly oversaturated.
A little mention here goes towards the IPX3 certification of the smartphone, that guarantees liquid protection, so if it rains your device should be safe, but don't go dunking it in water yet. The time has come to analyze the camera! We've got a dual 4 MP shooter in a system called Duo Camera, including a dual tone flash. The sensor measures 1/3 inch and the pixels size here is 2 microns.
The lens is 28 mm wide and has F/2.0 aperture. The sensor has a 16:9 aspect ratio and the maximum picture resolution is 2688 x 1520. The front cam is also pretty good, at 5 MP and with a F/2.0 lens. The second back camera does not take pictures, but instead it creates a map of the depth of the image. It can create 3D like photos and a thing lacking from this camera is the optical image stabilization, that was present on the HTC One. Instead we have digital image stabilization, that HTC says should be enough for now.
Another piece of tech used here is ImageChip 2 and the two LEDs at the back are a warm and cool one, following the lead of the iPhone 5s. These two LEDs produce more natural illumination and if you want a quick way to activate your camera, it should be enough to do a long press of the volume button in landscape just to turn the device on in camera mode.
For those of you who don't know, Ultrapixel means that you get bigger than usual pixels, which mean that you also get lower noise and better dynamic range. The camera offers fast autofocus (3 tenths of a second) and the UI main sections are divided into Camera, Video, Zoe, Selfie, Dual Capture and Panorama 360. At the top left side of the main UI we've got the flash options, while at the bottom there's the auto mode and a bunch of other picture taking modes like Night, HDR, Panorama, Anti Shake, Manual, Portrait, Landscape, Backlight, Text and Macro.
The Auto mode also has a few other options next to it, like white balance, ISO, exposure and effects. Meanwhile, the manual mode triggers a special collection of fixable lines, that remind me of the Lumia Pureview special UI, that allowed you to tweak settings in circles. Anyway, this special Manual UI lets you mess with shutter speed, focus, ISO, exposure and white balance. In the Settings area you'll find even more things to customize, including the likes of contrast, saturation and sharpness, as well as crop (16:9, 4:3 and 1:1). We've got geotagging here, burst shots and the pinch to zoom shown here works much better than on the Xperia Z1 for example, that's way too sensitive for its own good.
Picture taking is pretty fast here, as shown in the video review, where you can also check out some burst action. The video options include Normal, Slow Motion, Full HD 60 FPS for smoother filming and HDR vid. Here you can also customize ISO, exposure and white balance, plus add some filters, that were available for pics too. Locking focus is available when filming, by the way, if you really want that.
Zoe is able to record your pics and a bit of video, as usual and creates special collages of those special moments. When you enter the Zoe area, it goes like this: you press the shutter once for a normal pic, keep is pressed for longer than 3 seconds for a Zoe, but if you pass 5 seconds it becomes a regular video. Finally, the Selfie option offers HDR, portrait, timer, exposure, filters and white balance, as well as Full HD video.
Dual Capture will use both cameras to take a pic with the photographer in it, while Panorama 360 is self explanatory. And now we analyze the samples we've taken! The HTC One M8 tends to make pictures slightly darker than on the HTC One for example, for the sake of improved contrast. When checking out the daylight shots, I have to say this is not a huge evolution from the HTC One, but that doesn't mean the camera is bad, not at all actually.
We've got a very good macro option, as shown by the flower pictures, a nice looking panorama and a very user friendly way to stitch 360 degree panoramas, that are very nice looking by the way. Colors of pictures are realistic, the images are clear and crisp and the big disadvantage of the 4 MP camera is that once thepicture is taken you can't zoom in a lot to enjoy the small details.
HDR is also slightly exaggerated, covering up everything with a white coating for some reason. I also took some night shots, that resulted in poorer quality then on the Lumia 1020 for example, but at least we were above the iPhone 5s in this field. Low light capture looks nice and we've got a huge gallery of shots taken in misty London to prove that.
As far as video goes, things have improved from the HTC One. Exposure is good, the stabilization is what I would call "meh" and quality is crisp. You can film in 30 FPS or 60 FPS and we've also got a cute slow mo to play with. Once again HDR plays tricks on us and makes everything too white, even when filming. The Full HD 60 FPS video looks too realistic, like you're in the midst of a movie or something, straight out of Hobbit, if you want.
The videos you'll be recording have a bitrate of 20 Mbps and also offer very good audio. The night time filming is not bad at all and the video capture is almost perfect, aside from the stabilization. Zoes will be created automatically at the top of the albums, but you can also create your own and choose the needed content, music (that you can trim a bit), themes and everything here is intuitive and nice looking.
The Zoe App doesn't work yet, at least not in my region, as shown in the video review. And now you're probably wondering what the Duo Camera thing does. Well, you can not exactly use it in camera mode, but rather for post processing. If you select a picture that's not an HDR, not a macro, not taken with flash, basically a run of the mill pic and press Edit among the tools offered here are the special Duo camera options.
Those include Upfocus, that allows you to refocus any area of the picture in lytro style, various sketch and colorize options, that allow you to turn various portions of a shot into cartoons or sketches or switch color combos. We've also got zoom blur, that adds some blur and zoom to parts of the pic. Then there's Seasons, that adds falling petals or snow flakes to your images and 3D effect, that turns your pic into a 3D stereoscopic shot, the kind where you tilt the phone to make it tridimensional.
Finally, the duo mode ends with Stickers, that allow you to attach realistic hats, mustaches and such to your pictures and the ability to retouch a face and copy/paste other faces into shots. Overall, the HTC One M8 offers a good camera, with a ton of options and nice 3D effects, but during daytime, the shots feel stuck in 2013. At night and in low light the cam shines, but that's not enough. There's no OIS and the competition that includes the Xperia Z2 and Galaxy S5 has all the chances to beat this cam in the following months.
Moving on to performance, this model achieved 35.7 degrees Celsius after a 15 minute gaming session, which means there's no overheating issue and then we went to benchmarks. Here I decided to compare the handset with its predecessor and the LG G2, as well as the iPhone 5s. We scored 24.217 points in Quadrant with the M8, more than doubling the score of the HTC One and beating the 17k points of the LG G2. In AnTuTu the score was 34567, above the G2 by 1k and the HTC One by 6k points.
In NenaMark 2 were behind the HTC One because of its smaller diagonal, with 59.3 versus 61.3 FPS, while the LG G2 was behind the M8 with 58.7 FPS. In Vellamo we got a score of 1716, beating the HTC One by 300 points, but being totally beaten by the LG G2 with 2930 points. In 3DMark we scored 17570 in the most potent benchmark, beating the 11k points of the HTC One and the 15k points of the LG G2, as well as the 13k of the iPhone 5s.
Next up, we tried GeekBench 3, where we scored 979 in single core test and 2900 in multi core, besting even the iPhone 5s by a few hundred points, but only in multi core, since the iPhone won the single core test. GFXBench brought us 25 FPS in the offscreen Full HD test, while the iPhone 5s had 25 FPS. As far as connection speed goes, we recorded 20 Mbps in upload and download, while the HTC One did 21 and 19 Mbps.
Finally, in Sunspider we got 643 points and the lower the better here, so the iPhone 4s wins with 473 points. In BrowserMark 2.0 we had 2607 points, beating the HTC One and its 2200 points, but getting beaten by both the LG G2 (2885) and the iPhone 5s (3578). Overall, the performance is good, but the benchmarks are not all optimized yet.
As far as the UI goes, this is HTC Sense 6.0, that's minimalistic and not very different from HTC Sense 5.0 and 5.5. It runs on top of Android 4.4.2 and features the transparent bar and immersive UI that go with it. BlinkFeed has been slightly changed and HTC has given up the weather and clock from it. It also moved on from a paginated UI to a free scrolling one. We've got more services now and sources to exploit and there are real time restaurant recommendations among others.
You can also add custom feeds if the recommended ones don't cut it. This still feels better than Flipboard, by the way. We've got slight icon and color changes here and the presence of virtual buttons instead of capacitive ones is certainly worth a mention. Widgets are minimalistic and based on shades of gray and black, while the multitasking button brings up a grid of previewed apps that are killed with a swipe up. The notification area features functions like Do Not Disturb or HTC Mini+, which is a connection to a new accessory, sort of like a remote control for this phone.
That's a sort of mini phone that can be used as a TV remote, or to make the M8 take pics or even take its calls while you're playing games. A much talked about aspect concerning the M8 was the Motion Launch, a collection of new gestures to control the handset. You can double tap on the screen to turn it on, swipe down when it's off to go straight to voice dial and swipe to the right to jump to Blinkfeed from the locked screen.
There's also a collection of sensors and a pedometer included here, plus a Fitbit application bundled with the phone. Moving on to other aspects, the call quality is good, signal is OK, but the volume is lower than an iPhone 5's I have to say. The browser is fast and the text resize feature is very smartly implemented. The keyboard is comfy, but not as comfy as on the Galaxy S5, that has much better spacing for keys.
Finally, on the list of preinstalled apps we find the Calendar, TV (TV guide and remote control for gizmos around the house and TVs), 7Digital for music downloads, the Google Suite, Car Mode and Scribble, that's a very nice app for creating greeting cards, doodles and drawings. Polaris Office takes care of your productivity needs and Google Drive offers you up to 65 GB of free storage for 2 years.
Then there's Tasks and Stocks, plus Weather and HTC Apps. And now… the Verdict!
Here are the Pros of buying this phone:
premium design
nice feel in hand
duo camera is a gimmick, but it's fun to use
lots of power
lots of camera features
good battery
excellent screen and audio
best Android UI available now
no bloatware
very good front camera
And the Cons:
no 4K recording
no OIS
daylight shots are 2013 material
call volume below iPhones
no audio EQ
black band below display is ugly looking
This remains a hit phone, with very few defects and we give it a 9.8 out of 10 for design, a 9.3 out of 10 for hardware and a 9.8 out of 10 for OS and UI. The final grade is 9.63 out of 10 and this is indeed an improvement from the HTC One, but not a huge one. The camera can't quite compete with the Xperia Z2 and a Lumia Pureview just yet…  By the way you can buy a HTC One M8 from Amazon, if you're tempted.