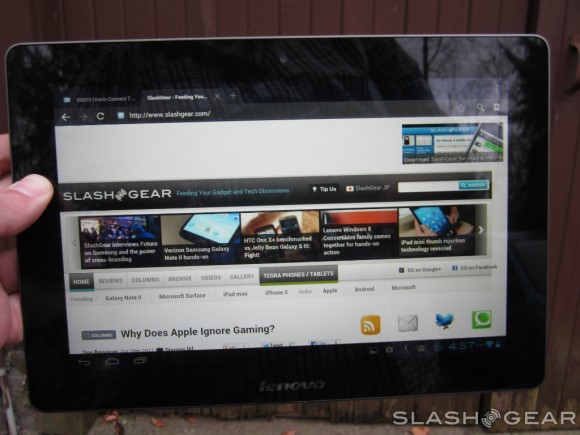 The folks of Slashgear are among the first to review the new Lenovo IdeaTab S2110A tablet, that they actually find hard to recommend after a detailed analysis. The device may look nice, but it doesn't have much build quality. It doesn't feel sturdy and you can even see pressure spots on the screen apparently…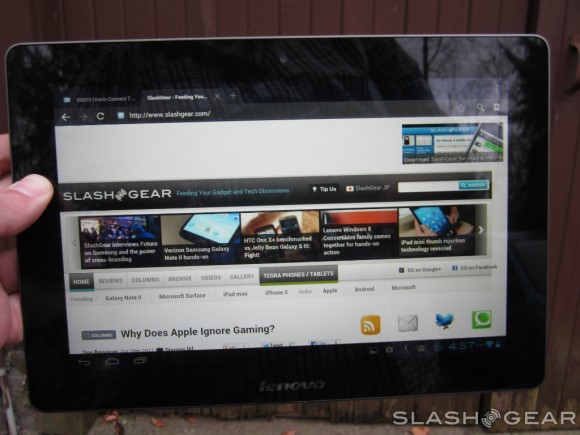 There's also a keyboard dock that you will have to buy separately for the device, taking the price a lot above $500, that kind of disappoints. Even without the dock, the price of the Idea Tab S2110A is a tad big for what it offers. The benchmarks are also pretty mediocre, with 4953 in Quadrant and if you wonder about battery, there's a 2 cell Li Polymer unit in here good enough for a bunch of games, video playback, surfing the web  for 4 hours of use on a full charge and with 35% left over, according to Slashgear.
Casual users should get about 6 hours of fun with a full charge, although Lenovo promised 9-10 hours. The keyboard dock gives you better battery life and sadly the keys are too crowded together. You need a couple of days to adjust to it, according to reviewers. The dock brings a USB port for charging, two full USB ports for extra connections and an SD card slot. The tablet's specs include a Snapdragon dual core 1.5 GHz processor and 2 GB of RAM and the rest you can find out in the full review, in the source link.