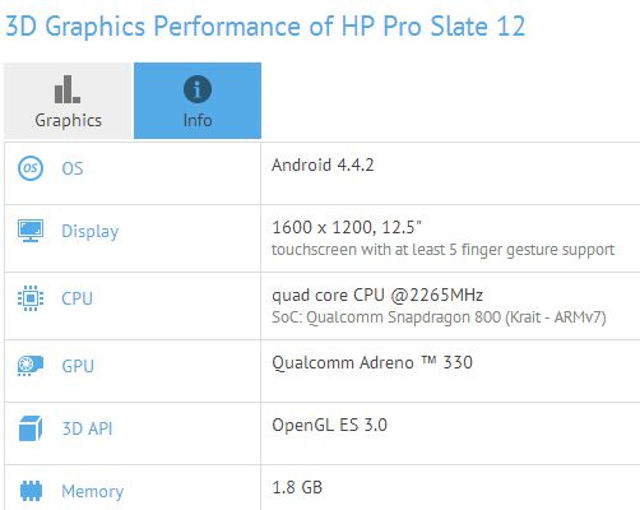 HP Slate 12 Pro is a new Android KitKat device, that has leaked online thanks to a benchmarking site and you can check out its details below. This slate runs Android 4.4.2 KitKat and sounds like a reasonably powered unit with a pretty big display.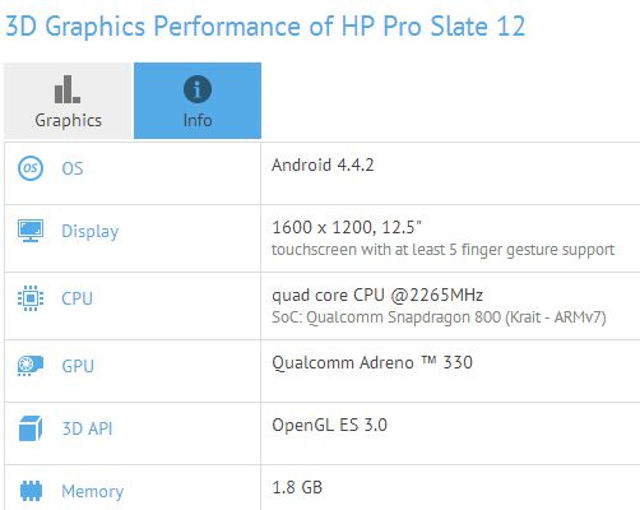 Many people doubted the whole 12 inch trend, but after Samsung tackled it with the Galaxy Note Pro 12.2, a few other companies approached the same idea. HP is among them with this slate, that uses a 12.5 inch touchscreen with at least 5 finger gesture support and a 1600 x 1200 pixel resolution. We also get a quad core Snapdragon 800 2.26 GHz processor inside, an Adreno 330 GPU and OpenGL ES 3.0 support.
The RAM quantity is 2 GB and I expect at least 16 or 32 GB of storage inside. HP Slate 12 Pro was leaked on GFXBench in case you're wondering and it comes with a 4:3 aspect ratio, a 2 megapixel front camera and an 8 megapixel back shooter. This model could be just a testing prototype, so take it with a grain of salt. Should we expect Huawei to also launch a similar product, since the two companies are already rebranding slates among themselves?