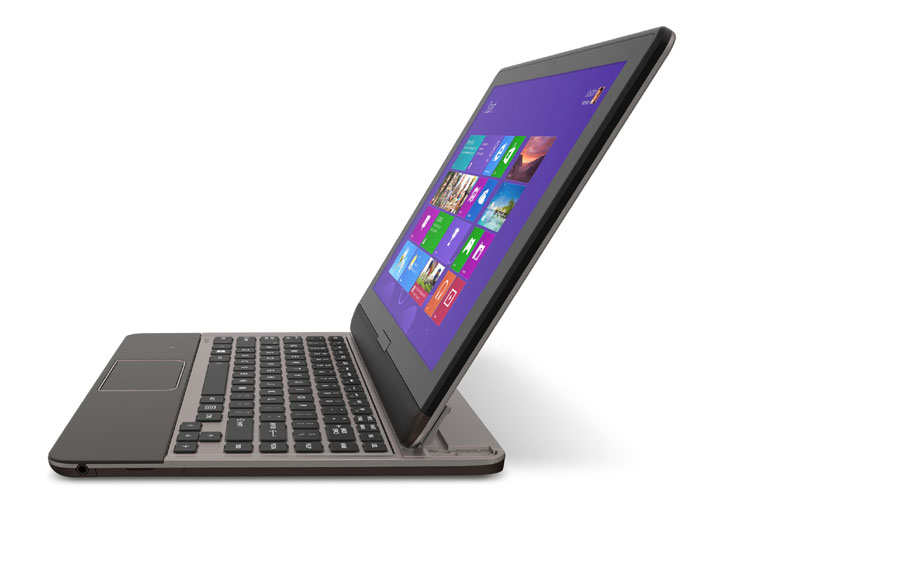 Toshiba unveiled during the 2012 IFA conference in Berlin a series of new computer devices, including tablet-ultrabook hydrids. In addition to unveiling the U925t tablet-ultrabook hydrid, Toshiba is announcing some more conventional-looking PCs running Windows 8 and 4K TV's.
Toshiba Satellite U925t is a Windows 8 Tablet With a Slide-Out Keyboard. It runs on an Intel Core i5 CPU and has a 128GB solid state drive.  It has a  12.5-inch screen that you can slide to reveal a full-size keyboard with a touch pad. Other features include two USB 3.0 ports, HDMI, and Bluetooth. There is also built-in NFC under the palm rest. It will be available for the launch of Windows 8 on October 26 in the U.S.
Toshiba Satellite U940 is an 14-inch Ultrabook with an Nvidia GT 630m graphics chip for on-the-go gaming. It comes with Windows 8 as standard and has a blue metallic finish. The device is powered by a Intel Core i5 CPU and has 4GB of RAM. Nvidia's Optimus graphics switching technology should ensure maximum battery life out of the 1.65kg and less than 21mm thick Ultrabook. Buyers can select a maximum HDD capacity of 1 TB HDD, backed by a 32 GB caching SSD, or they can go pure SSD (up to 256 GB).
The Toshiba Satellite U920 features a 12.5-inch IPS touch display (Gorilla Glass) with 1366×768 pixels resolution. Out of the available configurations you can go with either a Core i5 or i3 Intel CPU. You can also opt for up to 256GB SSD drive and up to 8GB DDR3 RAM. There is Wi-Fi, Bluetooth, GPS, HDMI port, compass, gyroscope and an ambient-light sensor. The Satellite U920T which as a laptop and a tablet running Windows 8. Details about availability and pricing will be revealed closer to the launch of Microsoft's new OS.
Toshiba also announced an 84-inch, 3,840 x 2,160-pixel TV powered by their CEVO Engine 4K. The TV is due out first half of the year for both US and Europe. Other TV models include the 46TL933, 40RL933 and 55WL968.