Yesterday Samsung debuted the Galaxy View tablet, which they insisted not to call "tablet", but rather a mobile entertainment device. Today various hands on videos and photos have appeared, including the series of shots below, done by CNET.
First thing to notice, the device doesn't have a Home button or capacitive buttons. Its huge 18.4 inch Full HD display seems pretty crisp and the format is a widescreen one. While Samsung hasn't unveiled the pricing for this model, various retailers have listed it for $599. Weighing 2.65 kg, the slate clearly doesn't fit in a backpack, but it can be lugged around, thanks to a special handle at the back.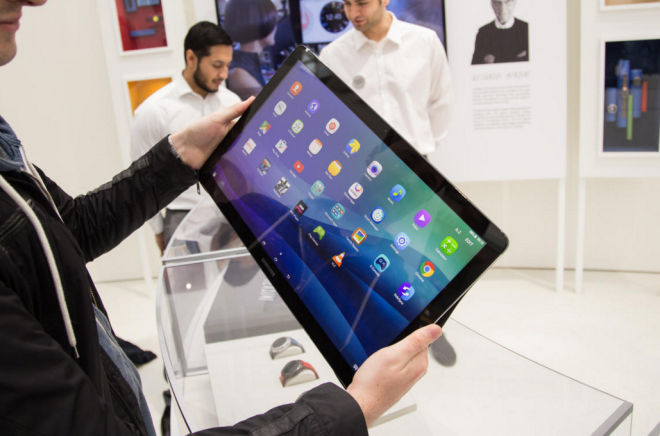 Samsung customizes Android here not only with TouchWiz, but also with a special video viewing area, filled with options from Netflix, Hulu, Amazon and more. Users can switch back to regular Android if they please. A bunch of stereo speakers are also included and a kickstand integrated into the back makes the device more video watching-friendly.  Bezels seem reasonable in size and the soft touch material of the case is prone for long hours of gripping.
If it big? Yes! Is it comfy? Surprisingly yes, judging by the pictures.