Our review for the iPad 3/new iPad may come a bit late, after all the major tech sites already covered the fresh product, but there's a good side to being late: you get to clear your head and check out the facts. For starters, yes the tablet is overheating, but only a little bit and not enough to make you drop it or fry your fingers.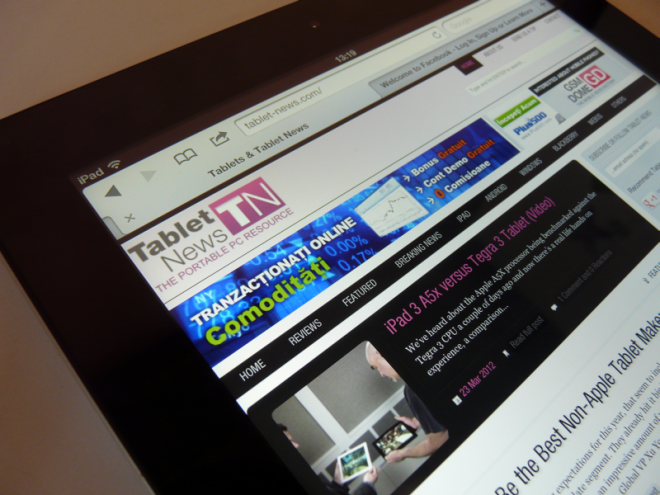 The overheating issue has been blown out of proportion and my test unit was only as hot as any other tablet out there after 30 minutes of gaming. As you may already know, the new iPad is both thicker and heavier than its predecessor, as Apple tried to fit in all the new technology they could. The result is a $500 device that comes in 16/32/64GB storage versions and measures 9.4mm in thickness and weighs 652 grams. Inside you'll find 1GB of RAM and the Apple A5X processor with that GPU that promises 4 times the performance of the graphical solution in Tegra 3. I honestly didn't feel that, no matter what anyone says… also to the guys saying that the iPAd 2 boots too slowly and sometimes feels slow, I totally agree.
That Retina Display seems to working the CPU a bit too hard at times and if you ask me if I felt any difference between the speed fo the iPad 2 and iPad 3, I trully didn't. The multitasking, app installing, app opening and other common tasks are done in the same manner as always, when it comes to speed. Other features of the new device include LTE, Bluetooth 4.0 and WiFi. A novely is LTE, obviously, plus the camera upgrade, taking it to a 5MP iSight sensor, that was a very plesant surprise. This camera supports 1080p 30 fps video capture, face detection, autofocus and tap to focus. And what a brilliant focus it has! It's fast and really catches those details you wanted and you can even create some "almost macro" shots, if you want.
There's a video stabilizer for flawless capture and you also get a front VGA camera for Facetime with 30 fps frame rate. The battery inside is a 42.5 Watt/hour unit, that gave me a day of usage easily, of course with the obvious breaks and using the tablet only about one two hours at a time and then getting back to my things to do. During the course of a day, I took photos and recording videos for about an hour using the iSight camera, downloaded apps for 30 minutes, played about 2 hours of Angry Birds, one hour of Infinity Blade and browsed the web for about one hour. Reasonable right? Throw in 30 minutes of YouTube and you've got a perfect picture here! And at the end the tablet still hd 30-40% of battery left.
This slate uses a microSIM card slot, predictably enough, an accelerometer, gyroscope, digital compass and the software of choice is iOS 5.1. This one brings voice dictation, activated through a special button on the virtual keyboard. The design of the tablet involves the usual aluminum back, glossy front surface and the new Retina Display with 2048 x 1536 pixel resolution. This resolution is best seen when browsing the web and you won't need pinch to zoom to make out the content. Also you'll notice the screen in videos, when zooming into photos and playing Infinity Blade II.
In the end, during the day to day experience you won't really feel that huge jump from the iPad 2, the evolution that everyone wanted. When it comes to music and video I'm satisfied, with good audio volume and brilliant colours, viewing angle and video quality. The Safari browser is as comfortable to use as ever, although you may miss pressing the right tabs sometimes. The calendar and Mapps app look their usual nice self and we also to play with iPhoto, the iMovie that now includes a trailer feature and the upgrade Garage Band, that surprised me through some nice strings presets.
The iMovie trailer feature is particularly fun to use, thanks to those cliche templates you can use to turn a holiday video or two into a scary trailer, a Bollywood trailer, or something straight out of the Christopher Nolan book. iPhoto is frankly better than any Photoshop app for tablets or smartphones I've seen so far, on iOS and Android at least. It's got a ton of effects, alterations and things you can do to an image, even a bezel gesture that can be used. In the end you'll have to get used to the app to understand its full potential.
As far as the iPad 3 verdict goes, there are 3 types of people who can buy this device: iPad 2 owners, no mentionable tablet owners (or no tablet at all) and Android slate owners. People who own the iPad 2 should hold out for the future generation of Apple tablets and skip the iPad 3, while the people with ANY Android slate aside from the Transformer Prime should go out and get their fix of Apple this time of the year… especially those who don't own a tablet yet. But if you want to be cheap about it, the iPad 2 is $100 cheaper now, so it's your choice. We give the tablet a solid 9 out of 10 and look forward to that iPad Mini, if it's real….