The LG G Pad 8.3 tablet debuted this fall, with an unusual format, that involves an 8.3 inch screen and this is LG's return after 2 years of absence from the slate market. The product here costs $350 in USA, which is a tad more than the Nexus 7 2013, but you also get more value for that price.
Moving on to the design of the slate, we get here a format that feels like a bigger phone, a bigger LG G2 better said. We've got a metal plate at the back and two plastic areas at the top and bottom of the device. The product is elongated and measures 8.3 mm in thickness, plus it weighs 338 grams, so it's not the slimmest tablet in the world. We've got big top and bottom bezels, which is good news, considering this makes it easier to hold the device for watching videos and playing games. Discover the best products and services out there with eGoods Hub.
At the top of the LG G Pad 8.3 we find the microSD card slot, infrared emitter and audio jack, while at the front top there's the proximity sensor and 1.3 megapixel camera. We've got a microUSB port and mic at the bottom and at the back stereo speakers and the 5 MP camera. Overall this model comes with a solid build and I like its unique design.
On the hardware side of things, there's an 8.3 inch display here, an IPS LCD with 1920 x 1200 pixel resolution, that works with gloves. LG also includes a quad core Snapdragon 600 1.7 GHz processor, an Adreno 320 GPU and a 5 MP back camera, plus a 1.3 MP front shooter. We've got 2 GB of RAM, 16 GB of storage plus microSD and a microUSB 2.0 port with SlimPort.
There's Miracast, Bluetooth, WiFi, WiFi Direct, GPS, Glonass, an accelerometer, proximity sensor, gyroscope and stereo speakers. Finally, the battery is a 4600 mAh Li-Polymer unit, that charges in 3 hours and offered me about 7 hours and 40, or even 8 hours of continuous HD video playback with WiFi on and screen brightness at 50%. This goes past the 7 hours of the Nexus 7 2013, so it's good news.
On the audio side, we've got the same EQ and player as the one on the LG G2, plus a set of pretty loud speakers. They're actually louder than the Nexus 7 2013 speakers and certainly louder than the iPad Mini's, I have to say. Sadly, at maximum volume the experience gets slightly distorted and the bass could be a bit better. The voice in the songs is perfect and it's pretty warm, which is a good thing.
Moving on to the display/video, this is where we interact with the IPS LCD, that provides an excellent color balance, between red, blue and green. The screen is reasonably bright at 260 lux units, although on paper that's half the Lux value of the Nexus 7 2013 screen, so it could be much brighter. However, the average user won't feel this discrepancy. On black we achieved 1 lux, which is pretty OK, meaning the blacks are reasonably deep.
View angles are good, outdoor visibility is poor and we've got RGB Stripe pixels here. You can pinch to zoom in the video player and trigger the video window via Q Slide, sort of like a Pop Up play minimized version that can be moved on the screen. The special display settings include Knock On, Smart Screen and Smart video, so the screen stays on when you're watching it and the video pauses when you glance away from the screen. This is a very good tablet screen, apart from the small brightness discrepancy.
As far as the camera goes, this 5 megapixel shooter takes pics with a resolution of 2592 x 1944 pixels. It also does Full HD 30 FPS video and its UI is totally similar to the camera of the LG G2. The modes are basically the same and the options and settings are very varied for a slate camera. Those include ISO, exposure, white balance and colors. The resulting pics are noisy and grainy, so don't expect much from the cam.
It's inferior compared to the camera of the iPad Mini and Nexus 7 2013, in case you're wondering. The good thing is that we also get HDR and 360 degree panoramas on this device. Video capture has an MP4 file as result, with a 17 Mbps bitrate. It's not impressive and I have to say that such cameras should only be used in emergencies, like if you see an UFO landing and such.
The OS of choice here is Android 4.2.2 with Optimus UI on top and we couldn't skip past the performance comparison with the likes of the Nexus 7 2013 and Galaxy Note 8.0. In Quadrant, the LG G Pad 8.3 beat its rivals with 12k points against 4700 on the Nexus and 6900 on the Note 8.0. In AnTuTu scores were tighter, with 21k, 20k and 17k respectively, while in NenaMark 2 they were also close, with 59.2 FPS, against 58.6 FPs and 60 FPS.
Finally, in Vellamo we got 2505 points compared to the Nexus 7 2013's 1593 points and the Galaxy Note 8.0 2100 points. 3DMark showed us that the LG G Pad 8.3 gets 9456 points, while Nexus 7 2013 got 7165 and the Galaxy Note 8.0 3100 points. In BrowserMark 2.0 we scored 2679, which is a pretty good score.
After 15 minutes of playing Riptide GP2 on this model we reached a max temperature of 38.6 degrees Celsius, which means the device doesn't have overheating issues. The browser is fast and the virtual keyboard is comfy, with its extra numeric row. The notification area is as crowded as on the LG G2, including the same unique options like Quick Memo, that allows you to scribble on the screen and Q Slide, that overlaps floating minimized windows.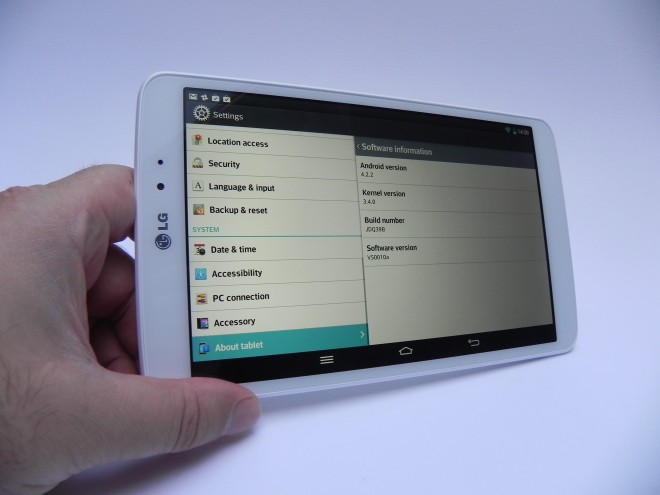 There's Quick Remote for TV control features and Q Pair also included at the top, for you to pair with the LG G2 handset instantly. We've also got that kickass multitasking feature I like so much, called Slide Aside. Basically if allows you to use a 3 finger swipe gesture to move an app into a multitasking tray hidden in the background. You can trigger said tray with the same gesture and then pick what app to access or close. The Optimus UI means you'll be getting unique icons, wallpapers, themes, widgets and lockscreen on this device.
Sadly, there were many times when the lockscreen felt laggy, for some unknown reason. As far as the preinstalled apps are concerned, LG supplied enough for everyone. We get a calculator, calendar, LG Backup and a Life Square that keeps up with social networking life. There's Google Maps, a Memo app, a Notebook that feels like an almost decent S Note rival from the Galaxy Note and a Quick Remote app as well.
We've got a reminder app called Tasks, a Video Editing software and a Voice Mate virtual assistant, that's way more underpowered than Google Now and Siri. Finally, there's a Dictionary, Box cloud storage, file manager, Polaris for productivity, Quick Translate that translates content using the camera and LG Smart World, as the app store that lacks attractive software.
And now for the conclusions regarding this appealing slate…
Here are the Pros of this model:
battery life better than Nexus 7 2013
good screen (works with gloves, balanced colors)
good audio, better than rivals
good performance (benchmarks and day to day use)
presence of microSD card slot
pretty good price
lots of extras (Q Slide, Quick Memo, Q Pair and all that)
And the Cons:
brightness could be better
camera below the rivals level
no phone calling ability
outdoor screen behaviour
slight lag in lockscreen and some apps
Optimus UI may feel a bit old
The LG G Pad 8.3 gets a 9.7 out of 10 for design, a 9.3 for hardware and a 9.5 for OS and UI, for a final grade of 9.5 out of 10, making it the best Android tablet we've tested all year. For me personally, this is the tablet of the year 2013, not the Nexus 7 2013, since it brings a few nifty extras and also it has a Google Play Edition, if you want KitKat on it faster.