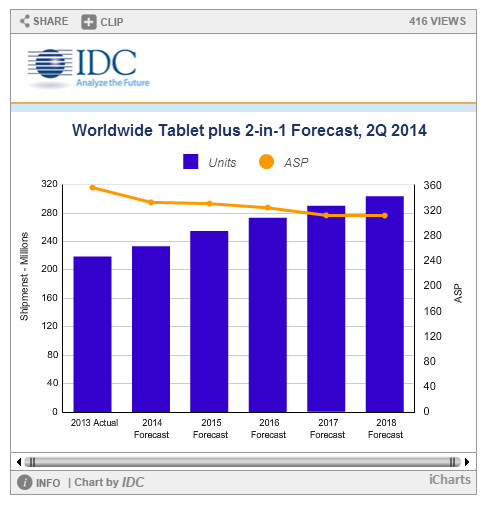 The International Data Corporation (IDC) has lowered its worldwide tablet and 2 in 1 forecast for 2014, to 233.1 million units, after the demand in mature markets has dropped seriously over the past months. The info follows a second quarter with lower than expected demand.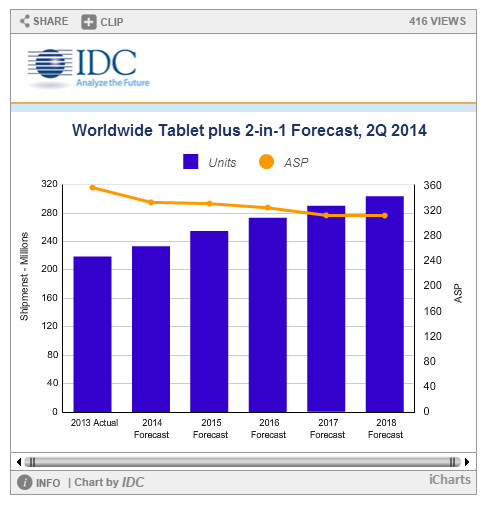 The new Worldwide Quarterly Tablet Tracker forecast shows a 6.5% year over year growth rate, quite a bit below the 12.1% growth rate that was previously forecast. When we said "mature markets" above, we meant areas like North America and Western Europe, that will combine for flat unit growth in 2014, with the remaining regional markets generating 12% unit growth over the same time period.
Price pressure will be an important factor for months to come, especially for tablets with smaller screen sizes, which means less than 8 inches. The average selling prices are expected to stabilize at $373 in mature markets in 2014, because of the shift to larger screens and slates able to make phone calls. The shipments of such devices reached an impressive 25% this quarter in the Asia/Pacific region, showing there's a huge market for these slates.