If you want to spend less than $300 on a quad core tablet with a big 10 inch display, then you may want to give the E-Boda Supreme XL400 Quad Core a shot. But then again… maybe not and you'll see why in the following lines.
This model is the first East European quad core tablet we're testing, coming straight out of Romania. Local tablet company E-Boda branded the device that originally came from China. Its price tag is $266 and we're previously reviewed other E-Boda slates, so we're familiar with the brand. The design is pretty solid and sturdy and we've got a nice curved back here.
The metal frame that's all around the device makes it feel resilient, but the huge plastic bezels are not that nice looking. We've also got two layers of plastic at the back, applied to the camera and speaker area and the bottom. This model is very bulky, at 13 mm in thickness, almost double the waistline of the Xperia Tablet Z…
It also weighs a hefty 670 grams and all the ports, slots and buttons are confined to one side of the device. The buttons are way too small to be comfortable and other stuff worth mentioning is the presence of a reset hole, microphone hole and mini USB port. As far as hardware goes, the CPU is supposedly a quad core Actions ATM 7029 unit, at 1.2 GHz, with ARMv7 architecture.
The GPU is a Vivante GC1000 multi core and other specs include 1 GB of DDR3 RAM, WiFi, 16 GB of internal storage and the ability to hook up an external 3G modem via USB. We've also got a 3 axis G sensor and the 10 inch IPS 1280 x 800 pixel display at the front. The screen supports 5 point mutitouch and it's LED backlit.
As far as cameras go, there's a 2 MP unit at the back and a front 0.3 MP shooter. Finally, E-Boda XL400 Quad Core adopts a 6600 mAh battery (3.7V), that offers 60 hours of standby functioning and on paper it should provide you with about 5 hours of functioning time. Our tests have given us 4 hours of continuous video playback, so about 2 movies. Or you can do 4 hours of gamig, if you want to.
As far as audio goes, the speakers at the back are truly underwhelming, with bad volume, big distorsion, weak bass and unclear voice. On the video side, the LCD IPS has low brightness, weak sunlight behaviour, so this is an indoors tablet. The color reproduction is good and the view angles are OK, but not more than that.
The screen is actually pretty decent in the end, but that doesn't save the tablet. Camera-wise, there's a bit of a confusion here, since the back of the tablet says 2 megapixels and the UI says 5 megapixels, so yet another bit of thumbs down. Obviously the shots are poor, like on most 10 inch tablets out there.
The OS here is Android 4.1 and I used a Smart Launcher because of the UI's horrible lag. On the benchmark side, I've decided to compare this model to the Allview Alldro 3 Speed Quad, yet another Romanian tablet. By the way, using 3DMark, I uncovered the real identity of this tablet: Ainol Novo Hero II, that surprisingly gets a better 3DMark result.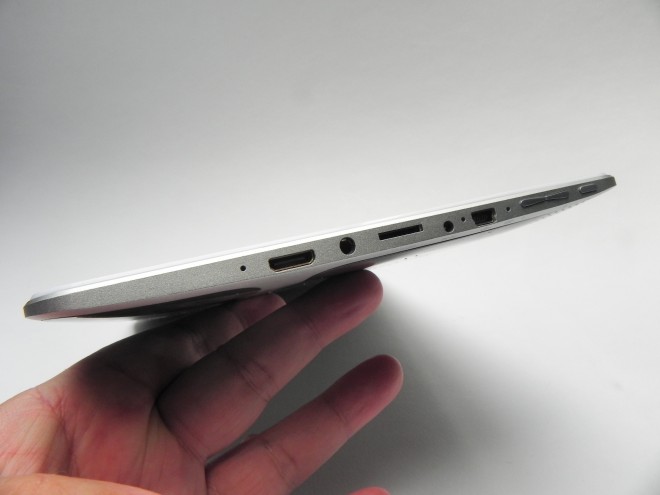 Our tablet scored 3010 points in Quadrant, so less than the Allview model, with its 3100 points and sadly AnTuTu didn't even run on the E-Boda model. In NenaMark 2 we scored 42.5 FPS, so more than the Allview unit, but that one has a Retina Display, so it's easy to explain why. In 3DMark we scored 1874 points and I find it hard to believe we're dealing with a Cortex A9 here as the maker promises. Everything points toward a Cortex A5, honestly.
This is strike 2 for E-Boda, who offered us a different camera and CPU compared to what they promised. Lag is omnipresent on this device, even in the Google Play Store. Also, speaking of apps and software, the only additions that E-Boda broguht are a Docs to Go app and a screenshot button. Overall, everything felt so laggy that it even made me Angry at some point.
So, time for the verdict. Here are the Pros and Cons.
Starting with the Pros:
decent battery
good price
the screen is almost decent
solid build
And the Cons:
specs confusion (CPU and camera)
huge lag
weak camera
low screen brightness
bad speakers
takes too long to charge (5 hours)
We give this tablet a 7 out of 10 for design, a 4.5 out of 10 for hardware and a 7 for OS and UI, for a final grade of 6.16 out of 10 and we're really being generous here. Supposedly E-Boda already pulled a firmware update to fix some of the issues, but even that has its problems, being very hard to install…