This summer it just so happened that we had a productivity slate to make our work portable. It was the Cube iWork 10 Ultimate and we also reviewed it, while using it to write reviews. Like a dream within a dream, like Inception. Anyways, this is a dual OS machine, one that focuses on productivity and has a pretty solid keyboard, that can be bought separately.
The 10.1 inch tablet is priced at $169.99 on Banggood.com (but we have a coupon code that takes 20% off the price: "b99594"). The keyboard can be purchased from the same retailer for $54. We're dealing with an Intel Cherry Trail device here, that combines the advantages of Windows 10 with those of Android 5.1. The tablet measures 9.3 mm in thickness, weighs 615 grams and comes with a wide format and big bezels.
It's a more landscape focused device, that has a fingerprint magnet of a facade. The blue back looks very nice and this goes to show that a hue can make all the difference so Apple was on to something, playing with rose gold and gold. I also like the texture of the device's back side, which is important, because I got to hold on tight to it for a long while.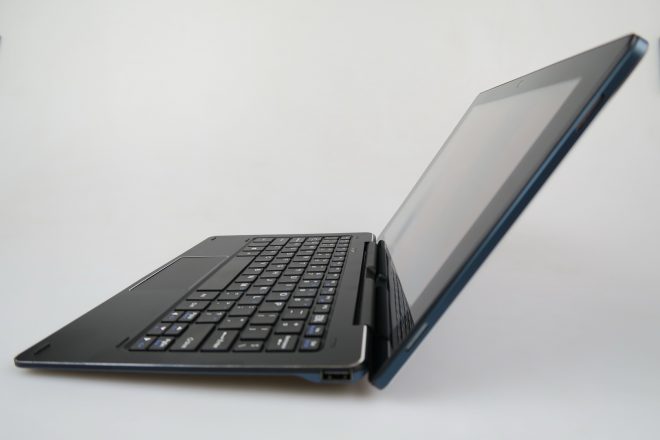 The product has a metal body, comfy buttons and a comfy overall format. It's got a solid build, it doesn't creek and believe me that's got to count for something nowadays. I would even say it's OK to be used even with a single hand. The keyboard sold separately has rubber feet, comfy keys with a pretty nifty travel and its magnetism and attachment to the tablet are quite fine.
I'd say that the rotating area is a bit rigid, compared to my expectations. There are pins and 2 connectors that make things come into place. The format is quite versatile here, so you can alternate between tent, stand, laptop and tablet. The device is comfy in all the positions and situations. This product has an excellent build, good key travel and a nice trackpad even. I like the fact that its trackpad is not overly sensitive, a problem I have with my own laptop.
There's a 10.1 inch screen on board, an IPS LCD Full HD unit with 5 point multitouch. There's a 1920 x 1200 pixel resolution in the mix and the viewing experience showed us very vivid colors, solid brightness and wide view angles. I would even call it OK in full sunlight, so the contrast is nice. A bit of oversaturation does happen, I'll admit that. Pixels have an RGB Stripes arrangement and then we proceeded to the luxmeter test.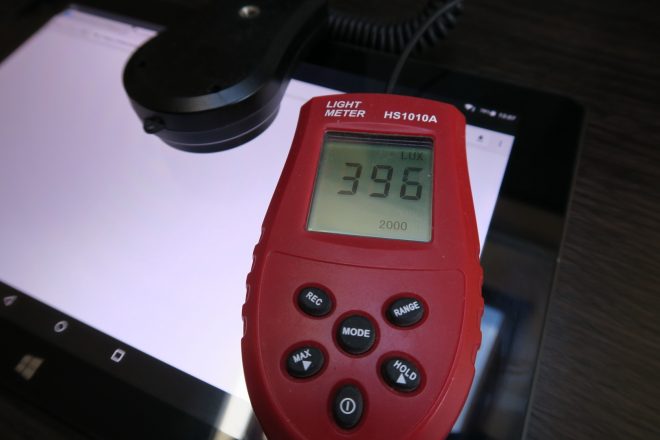 We achieved 396 LUX units, which is great, since we usually encounter only 200 LUX on products of the sort. This beats the iPad Air 2 and Lenovo Yoga Book, both solid and beloved devices. We also scored below the Galaxy Tab S2 9.7 and Nexus 7 (2013), though. Settings include brightness, adaptive brightness and font. Overall, the screen is great, once again compared to other devices from the price range.
Moving inside the slate, we find familiar innards, like the Intel Atom X5 Cherry Trail CPU, a Z8300 quad core 14 nm unit, clocked at 1.84 GHz. There's 4 GB of RAM here, 64 GB of storage, a microSD card slot and I was shocked to see there's no lag on Android, with things moving quite snappy and fast, even for Android 5.1. Even the boot is fast. Riptide RP Renegade runs fine, has great graphics and frame rate, so gaming also checks out.
We also did benchmarks, scoring above the Chuwi Hi12 in Quadrant and also above the Teclast X98 Plus II. We scored below the Nokia N1. In AnTuTu 6 we beat the Cube i7 Remix and scored below the Xiaomi Mi Pad 2. Finally, in GeekBench 4 we surpassed the Onda OBook 20 Plus in the single core sub test and came just below the Yoga Book in the same test. The multi core one had us above the Chuwi Hi12 and below the Acer Switch 3.
Performance is OK for a midranger and moving on to the temperature, we had 34.9 degrees Celsius after running GFXBench and 40.6 degrees after Riptide GP Renegade, so everything is OK, although the slate may feel a bit hot in games. Moving on to the battery, we have a 7500 mAh unit here, that's a pretty OK capacity for a 10.1 incher. The video playback time we achieved is 6 hours and 19 minutes, which is reasonable.
It beats the Teclast Tbook 16 Pro and Chuwi Vi8 and scores below the Nokia N1 and Xiaomi Mi Pad 1. In PCMark we scored 6 hours and 23 minutes, which is also OK and superior to the Acer Iconia One 10 B3, plus the ASUS ZenPad S 8.0. We also scored below the Xiaomi Mi Pad 2 and Lenovo Yoga Book. Charging was gigantic, at over 8 hours, but then again we didn't have the original charger bundled with our test unit.
Settings include the typical battery saver of Android and its options, plus the also typical Power Saving features of Windows 10. On the acoustics front, there are two speakers available, placed on the right of the device. There's a stock music player here, with a stock EQ. We've got 5 custom channels here, Bass Boost, Surround Sound and Genre Settings. The actual experience, based on my own ears involves a pretty OK volume, but not much bass. The highs were kind of nice, so was the voice and there was no distortion.
The movies sounded particularly nice. We also did some decibelmeter tests and achieved 83.6 dbA at the front and back of the device, which is superior to the Xiaomi Mi Pad 2 and Teclast X98 Plus II, but inferior to the Cube i7 Remix. In Riptide GP Renegade we scored 90.1 dBA, that beats the Acer Swtich 3 and Acer Iconia One 10 B3. FLAC support is also here and I'd say that the acoustics are solid all around.
Windows 10 and Groove Music Player are also in the mix. We also have cameras included, but as you ca probably predict, they're not big champions. There's a 2 MP back shooter and a 2 MP front shooter and options include timer and face detection, plus 720p video capture. That's on Android and if you switch to Windows 10, there are many extra options, like exposure, white balance and even shutter. Skyping is also available.
Now let's see how we're doing with connectivity. The device has basically everything that matters covered, including micro HDMI, Bluetooth 4.0, WiFi b/g/n, OTG support, plus microUSB 2.0. There's USB Type-C used for charging and the keyboard throws in two extra full USB ports. There's also an audio jack and a microSD card slot. By the way, this slate offers 4K output at 30 Hz and there's no 3G or 4G unless you connect a dongle.
We did a WiFi test and achieved 31 Mbps in download and 20 Mbps in upload, which is solid. On the OS front, we're dealing with Android 5.1 plus Windows 10, that can be alternated at the push of a single virtual button. Android is pretty much stock, in the multitasking area, dropdown portion and widgets. The UI is smooth, but this Android really feels old, the 3 years old it actually is. The preinstalled apps list includes a crazy 16 apps, the least I've ever seen on an Android device. There's no Google Maps, no Gmail and many things are lacking, but you can find them in the Play Store.
It takes 60 seconds to switch to Windows 10 and speaking of which, the Microsoft OS gives you access to Cortana, a Tablet Mode, multiple desktops, Windows Ink, Word, Excel, PowerPoint and the works. You use folders, .EXE files, Windows Store and the incredibly fast Edge browser. Another advantage is that while Android offers a few GB to play with, Windows 10 has 29.6 GB free. Switching from Windows 10 android takes 1 minute and 40 seconds, which is quite a lot, but still OK in this price range.
The tablet is overall comfy and it really helped me with my articles, reviews and Office-related tasks. Journalists and students have no excuse not to get one, particularly at such a good price. The keyboard is also affordable.
Now let's go to the verdict!
Here are the Pros:
solid build
good display
comfy keyboard
not bad performance
dual OS is a plus
OK battery
good acoustics
HDMI
USB OTG
And the Cons:
Android 5.1 is and feels old
rigid keyboard connectors
some overheating in games
long charging
poor cameras even for 2 MP standards
This is one of the best Cube tablets I've tested and one of the best Chinese slates period. Yes, it takes long to charge, but it's very good for people who want to enhance their productivity, while spending less than $250 or $200 even. The keyboard is a must have and the screen and audio are quite good for a midrange. I'd buy it personally and as a reviewer that's got to count for something.
You can get the tablet here and the keyboard here.