There were plenty of Android-based Intel 64 bit tablets at Computex 2014 and even Toshiba had one on show. Their model, the Toshiba AT7-C showed up with this feats and it's shown in action below. This model runs Android 4.4.2 KitKat and relies on a 64 bit processor.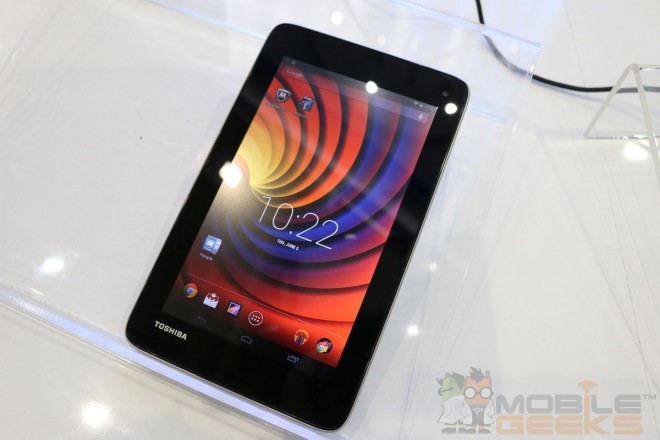 We're dealing with a 7 inch slate, that is actually related to Toshiba's 7 inch Windows 8.1 slate, only with a different OS. The specs are actually pretty low end other than the CPU thingie. The AT7-C packs a 7 inch TN display with a low 1024 x 600 pixel resolution, but also a decent brightness, according to people who played with it. The CPU here is the Intel Atom Z3735, clocked at 1.33 GHz and able to Turbo Boost to 1.83 GHz.
This model comes with 1 GB of RAM, 8 GB of flash storage, WiFi N, Bluetooth and a microSD card slot. There's also a back camera and the device scores a bit over 22k points in AnTuTu, while in Quadrant the score was a good 13.600 points. This is a preproduction model, so changes may appear.