I reviewed the Chuwi Vi8 dual boot tablet quite some time ago and while I wasn't ecstatic about it, there were some nice aspects about it. Now here comes the Chuwi Vi8, this time with Windows 10 in tow and some hardware upgrades, which some may find interesting. Priced at $89 on Gearbest, this device gets reviewed over the following lines.
It's an affordable 8 inch tablet with Windows 10 and if you check out Gearbest often, you'll find quite a few flash sales, that even take the price below $80. The design involves a plastic chassis with an "X" pattern at the back and metal insertions on the sides, supposedly steel. This product measures 9.3 mm in thickness and weighs 350 grams, which makes it 40 grams heavier than the Chuwi Vi8 and 30 grams lighter than the ASUS Vivotab Note 8, plus 1.7 mm slimmer than the same ASUS slate.
This model feels a bit heavy in the hand, but it's well built and quite solid. Bezels have an OK width and buttons are quite comfy. The Windows button will sometimes refuse to function out of the blue. Grip is OK and the design is reasonable for a sub $100 slate. Now let's talk about the hardware. We're dealing with an 8 inch display here, an IPS LCD with a 1280 x 800 pixel resolution.
The media players on board had the on and off hits and misses, so we had to resort to VLC Player for playback. The viewing experience involved a low brightness, poor contrast and OK colors and view angles. Pixels are of the RGB Stripe variety and the brightness we measured got up to around 185 LUX or so, which is very poor.
At least it surpasses the Chuwi Vi8 and its 159 LUX, right? It's kind of underwhelming overall and this device is only good for movie watching and gaming indoors, of course. The CPU inside this device is the Intel Cherry Trail Z8300, aka the Intel Atom x5, a quad core 1.84 GHz unit with 14 nm technology. The GPU here is the Intel HD Graphics (Gen 8), accompanied by 2 GB of RAM, 32 GB of storage and a microSD card slot with support for up to 64 GB extra storage.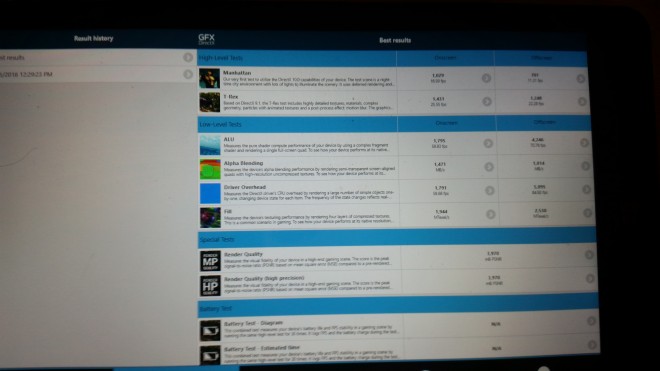 There's some lag here, especially when it comes to opening apps and sometimes apps don't even work or open to their full potential. Boot is slow and switching from windows is also kind of slow. The slate still manages to run Riptide GP2 and Overkill 3 reasonably, even though I got some crashes here and there. Benchmarks were a mixed bag, since in GFXBench we surpassed the Xiaomi Mi Pad 2 and iPad Mini Retina, while in 3DMark we were pretty much at the same level with the Chuwi Vi8 and ASUS Vivotab Note 8.
In Relative Benchmark results are also similar to the ones of the ASUS model. In PCBench we got a strange result in the HDD writing speed, which is two times lower than most Windows tablets I've tested. When it came to the temperature test, we got to 44.7 degrees Celsius, after playing the game Riptide GP2 for 15 minutes, which means there's overheating here.
On the audio side of things, we used Groove Audio for music playback, but even that had some bugs and wouldn't work at times. We used the decibelmeter and measured the sound to reach 73.5 dBA at the front and 75.9 dBA at the back, both low values. The speaker also lacks bass and strength, sadly. At least we surpassed the Chuwi Vi8's 71.6 dBA and the Allview Viva H7 Xtreme.
The camera system included here is actually a pairing of a 2 MP shooter at the back and a 2 MP shooter upfront. White balance, ISO and exposure are ready to be set up, as well as aspect and 720p video capture. Quality is neglectable and the captures are grainy. I'd only use the tablet for Skype with the front camera. The web browser of choice here is Edge, that's very fast and soon it'll get extensions with Redstone.
The Browsermark benchmark result is kind of low, but the Sunspider one is excellent. On the connectivity front, there's and USB Type C port, micro HDMI 1.4, WiFi b/g/n 2.4 GHz, but no trace of 5 GHz. Bluetooth 4.0 is also here and there's no 3G or 4G LTE available. Chuwi Vi8 Plus packs a 4000 mAh battery, that on paper provides 3 hours of video playback and in real life offered us 3 hours and 17 minutes of playback, confirming the promise.
That's still not a very satisfying result, even for an 8 inch tablet. Chuwi Vi8 for example achieved 5 hours and 58 minutes, almost double the battery life of this model, so that's strange. Charging takes 2 hours and 20 minutes, which is decent, but not more. Chuwi Vi8 charged slower, in 2 hours and 58 minutes. The slate runs Windows 10 and comes with the Action Center, with Quick Settings like Battery Saver, VPN, Quiet Hours and more.
You can opt for the standard desktop mode, with folders and x86 apps or the tablet mode, based on tils. There's a Start menu with expanded tiles, a comfy virtual keyboard and Cortana is also in the mix. Resizable windows are available, too and there's no more Charms bar here. If you keep the Start button pressed, you will trigger the Task Manager and several other crucial tools.
One may also work with multiple desktops easily. The preinstalled apps list includes around 40 applications and some of them won't start when prompted. There's Skype, Office apps, OneDrive, Xbox, Maps, News, Sports and more. We had some problems with the downloads from the Windows Store, as if the standard lag and bugs weren't enough…
You can probably tell we're not very happy with this tablet and now let's get to the verdict.
Here are the Pros:
low price
solid build
runs games OK
Office on the go
GPU benchmarks are OK
fast browser
HDMI port
And the Cons:
overheats
lag and bugs
low brightness
low audio volume
poor battery
connectivity not quite modern
no 5 GHz WiFi support
This is not exactly an appealing product, because of its screen with very low brightness, lag and bugs and the underwhelming battery. Not even the acoustics or performance make up for the flaws. I'd recommend you wait a bit more, save more money and get a better slate. If you really must have this tablet, you can get it on Gearbest, at $89.