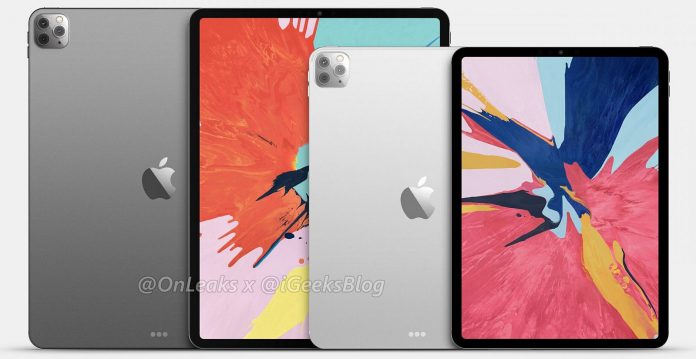 The mother of all leaks for people following the tablet market just happened. Out of left field comes a set of renders for the Apple iPad Pro 2020 series, courtesy of @OnLeaks and @iGeeksBlog. What we're seeing here has been seen before, since leaks of this kind have appeared, with a similar square camera.
Apple already released three new iPads this year, but none of them was an iPad Pro. The iPad Pro 12.9 inch and iPad Pro 11 inch debuted in November 2018 and it's been 13 months since then. There's been no shortage of leaks talking about an Apple A14X CPU for the next iPad Pro, a square camera with 3 sensors and some even mentioned Face ID for it. The latest predictions and expectations place the device within a March 2020 time frame for debut.
iGeeksBlog and @OnLeaks have shared multiple renders of the new devices, which show both the 12.9 inch slate and the 11 inch one. The new products have pretty much the same size and footprint of the predecessors. The general format is very much the same and the look of the facade is also the same. The jump from single to triple cameras is a big one though and the camera design is taken straight from the iPhone 11 Pro and iPhone 11 Pro Max. We're not sure if the sensors and lenses are the same, but odds are that they are indeed the same.
There's also a source saying that one of the three cameras could be a Time of Flight one. The larger tablet is said to have an IPS LCD panel with a 2048 x 2732 pixel resolution, while the smaller one has a LCD panel with a 2388 x 1668 pixel res. At least 4 GB of RAM should be on board, plus a high end Apple A13X CPU if the debut happens before the Apple A14 comes out. Storage should range from 64 GB up to 1 TB. The waistline is said to be around 5.9 mm, but goes to 7.8 mm with the camera bump. It's not very clear if the bodies are made of metal fully or if there's a glass back (any of two may apply).
We have no idea what the prices will be, but back in November 2018 the iPad Pro 11 incher went on sale for $799 and the 12.9 incher for $999. Similar sums are expected here. Now here comes the kicker: there's a third iPad Pro ready for late 2020, with an Apple A14x CPU and with a mini LED screen this time. It'll also have an Apple A14X CPU. If all goes well we may even see a 5G iPad at the end of 2020 or 2021 at the latest.